My Very Own Crappy Portrait
Have you heard of Free Crappy Portraits? Basically you send in a photo with a silly story and a stranger might draw you. I'm sure they get tons of submissions that's why I said…might.
Anyway a million years later – I finally got my portrait! Hooray! It was pretty much right on time because in my "story" I suggested that I would want to print this out for our anniversary. I got it a few days after but seriously – close enough! It made me giggle.
What I Sent:
"The picture attached is of my lovely husband and I! We got married last February and were totally on an awful realty show called Bridezillas. I know, why did he marry me?! We did it as a silly joke because that's the kind of people we are. We like to drink and dance and wear silly hats. My blog and twitter link is below, I will definitely share this on both of my sites! I hope to print this, frame it, and give it to him as a crappy gift. I think he would love it. 🙂 "
My husband – SPOT ON. I mean I think it looks just like him…haha.
And, me, well… I did tell them I was on Bridezillas. What did I expect? ;D
I really do love it – just something silly to save and remember! If you submit and get one back, do share!
If you want pro photos, try Portrait Innovations in Ft. Myers, FL.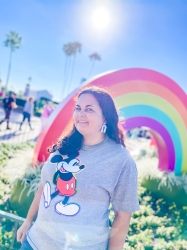 Latest posts by Krystal | Sunny Sweet Days
(see all)