The readily available coffee, simple to find snacks, and sparkly home decor items call my name! Whether it's to grab a moment of peace on a mommy's day out shopping trip or a fun toddler outing, Target is kind of my favorite. My son will beg to go to Target when he is bored (he knows he will get popcorn!), and my shopping list is endless when I have Target on the brain. There are few essentials that I always stock up when I shop the bullseye. Here's a list of my favorites. Keep reading to learn more about how to save money when you shop, and I'd love to hear what your best Target finds are.

1. The One Spot. I pick up notecards, to do list pads, and blog photography props for a few dollars here. It's the first place I look! I also grab sponges, dish soap if I see it, and mailing envelopes.
2. Clearance clothing racks. I never shop for clothing at Target unless it's on clearance. It always goes on sale! Patience is important.
3. Books and magazines. Once I've loaded up on dollar treats and clearance clothes, I make my way to the books and magazines. I so rarely treat myself to a magazine, but I like to browse. Sometimes a cover article will reel me in. I also take a look at the new releases for books. Target has a pretty good recipe book section and non-fiction memoirs to peruse!
4. Seasonal decor. I constantly change out my seasonal decor not only for myself but for my blog too. I need fresh linens and napkins for food photography, colorful centerpieces, and other small holiday props.
5. Clearance rugs, bathroom accessories, pillows. Since we have dogs, I have seemed to go through a LOT of rugs. I like to keep them fresh and rotate them out frequently.
6. Snacks. When I hit the health and beauty supply section, I know it's time to load up on our favorite snacks. We took home chocolate mint and chocolate chip cookie dough for me and fudge brownie for my little one.

7. Eggs, milk, cheese. Even though I like to shop at other grocery stores, Target consistently has good deals on dairy products. Paired with Cartwheel and my 5% off with my Red Card, it's a no brainer to get these items here.
8. Pens, pencils, binders, computer paper. I go through school supplies like crazy. I pick up fresh pens, a new binder (I'm constantly printing out ebooks to mark through!), and computer paper.
9. Dog treats and toys. Just like my mommy treats at Target, the puppies get one too.
10. Arts & Crafts. And, lastly, my son will usually pick up some kind of art project on the way out. I don't mind buying him a coloring book, new crayons, or even a canvas with paint. He totally loves to get creative, and I don't mind that one bit!
What are your Target must haves? Try these Mix & Match Target Summer Styles too!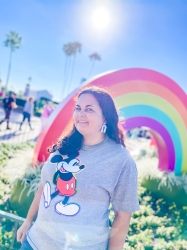 Latest posts by Krystal | Sunny Sweet Days
(see all)