Get Morning Motivated + Free To Do List Printable
I'm participating in a Seattle's Best Coffee® blogger campaign and received compensation as part of the program.
It's no surprise I'm a list and planner junkie. I also find relaxation in the process of getting organized or managing my time. I shared a few tips how to maximize your day on the blog yesterday, and I'm back with a tool to help you with those morning lists. But first, COFFEE!

I drink iced coffee almost year-round since I live in Florida. It's far too hot (even in the winter!) for the warm stuff. I also prefer coffee with my cream, if you catch my drift. I love a cold, sweet, beverage with more cream than coffee. It's kind of a joke that my iced lattes look more like chocolate milk or White Russians than actual coffee. I just can't help myself. I love a creamy caffeinated beverage in the morning. Seattle's Best Coffee recently released its first ever House Blend, and I was thrilled to be able to sample this myself. I do like to sample new and different coffees in the morning to change up my routine, and Seattle's Best Coffee didn't disappoint.

Seattle's Best Coffee's House Blend is made from high quality, Latin American, arabica beans. It is rich, smooth, and has a nice flavor that is not too bitter or too light. I found this new variety at my local Publix (which, by the way, is kind of my favorite grocery store!), and it was on sale for just $4.99. If you want to try some yourself, The roast and ground house blend packaged coffee is just $4.99 and the house blend k-cups are $5.99 (that's a total steal in my opinion!). The sale lasts through July 4, 2014 so get shopping!

The overall shopping experience at Publix is amazing from the minute you arrive in the store. Surrounded by BOGOs, a coupon-friendly policy, and tons of sales, I'm so lucky to have one basically across the street from my home. I made sure to grab Seattle's Best Coffee, cream, sugar, and I was ready to try a new way to make iced coffee.

This method did require the coffee to steep for 12 hours, so last night I whipped up a batch and let it sit. This morning I was in for a treat. I headed down to the dock with my Morning Motivate checklist, and enjoyed a sweet iced brew. The full recipe is available at Seattle's Best Coffee online.
As for getting motivated in the morning, I created a fun Morning Motivated checklist. I use a discbound notebook to keep my essentials in order, and I needed a place to just list. One can get lost in lists, so I wanted to really focus on the morning. I need a "launch" list so I don't get lost before my first cup of coffee. I plan to fill this out at night before bed, so that in the morning my mind can refresh and review what I needed to do first thing. This to do list is not meant to overwhelm, it's just meant to be an easy place to brain dump before bed (or first thing in the morning).
 The checklist can be downloaded here if you would like one to get started yourself. Full disclosure: I purchased the cute striped paper at the Dollar Tree, so the printable doesn't include that design!
Free Morning Motivated Printable: Morning Motivate Checklist
So, tell me, what do you do in the morning? How do you stay morning motivated? Do you have a favorite way to take your coffee?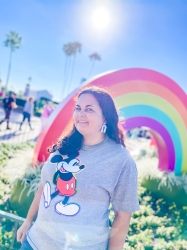 Latest posts by Krystal | Sunny Sweet Days
(see all)