Monster Jam's Newest Fan: How Our Son Became Grave Digger Obsessed
Fandom in sports is a fickle thing. Who or what we find ourselves passionately rooting for doesn't always have rhyme or reason. Sometimes it just happens. I know this because I have a blind allegiance to a baseball team that I have no geographic ties to, no patriarchal lineage with, and no logical reason to be a fan of. My only justification is that this team once made the five-year-old version of me smile and cheer in a meaningless spring training game with such a pure happiness that even three decades later, I can still remember that spark that first made me a fan with vivid clarity.
I saw that spark in my child's eyes this weekend at Monster Jam. I recognized that look as soon as soon as I saw it flash across his face. And someday, he is going to tell his own kids that Gravedigger was his favorite monster truck when he was their age.
Truthfully, I wasn't really expecting it. I've never been what some might call a "car guy" by any means. Despite my family's strong ties to auto sports and racing, it never really appealed to me. It had been decades since I had gone to a monster truck rally myself. Despite a toybox full of toy trucks, Cannon never showed a real interest in it either. Even as we pulled into Raymond James Stadium, he was more excited to swap video games with his neighbor friend who he brought along with us.
We all walked into the Pit Party before the main event to see some of the trucks up close. We took pictures with Zombie and the Hot Wheels truck. We all took a picture with the Gravedigger truck. I told them that was my favorite when I was their age, mostly because it was the only one I remember from being a kid myself.
We watched the BMX riders perform tricks on the ramps. Both of the boys were enjoying themselves but they were most enthused about playing on the giant pile of dirt in the middle of the parking lot.
It was cold — one of the coldest of the year here in Florida — so we ended up going back to the car a little early to eat some snacks and warm up before the main gates opened.
After some tailgating and tossing the football in the parking lot we headed into the stadium. We let the boys gorge on junk food and headed to the souvenir stand on the stadium concourse. They each picked out a mini replica truck. His friend chose El Toro Loco. Cannon chose Gravedigger after a brief deliberation between that and Scooby Doo. The seeds were planted.
We took our seats high above what would been the 50-yard line on a football game day and buried ourselves under blankets to shield ourselves from the blustery wind ripping through the upper levels of the stadium. Both of the boys cheered as their respective chosen favorites paraded out onto the field, filling the stadium with thunderous roars of their engines.
The night started off with head-to-head races. Toro Loco won his first race. Grave Digger did too. The excitement built up between the two and they both started in the adorable smack talk that can only come from a five-year-old. Both trucks won their semifinal heats as well. Their chosen trucks would be pitted against each other for the championship race.
As each of the trucks pulled up to the starting lines, the boys were literally bouncing in their seats. The green light flashed and the flags went up. The trucks thundered to life. In the final turn Grave Digger went wide, creating just enough separation for Toro Loco to cross the finish line first. Cannon was devastated. He was so emotionally invested in this truck, the one that he had only come to learn of its existence just a couple hours before, that the tears were instantaneous. There was honesty in his emotions. It was kind of sad and beautiful at the same time. His only solace was that there was still more events to come.
The 2-wheel competition was brutal. Toro Loco broke off both of its signature horns after it flipped over. Scooby Doo lost an ear. The event let fans judge the trucks' performances so I let the boys use the app on my phone to rate each trick. It was a nice touch of fan interaction as each of the compiled scores flashed across the stadium's jumbotron. The boys were pretty harsh in their judgments.
Grave Digger was the second to last to go. By this point the boys were so excited that they no longer noticed the stinging cold, their shared blanket laid crumbled underneath their seats. Grave Digger pulled up to one of the smaller ramps and almost gently went over it. The landing was just enough to bounce the front tires off the ground and the driver gunned the throttle. With the green flames of its hood pointing toward the sky, Grave Digger rode on only its back tires across the entire length of the field. Cannon squealed in joy as the audience erupted. The driver then pulled up to another ramp and slammed on the accelerator. The truck landed vertically on its front tires and seemed to stand there frozen with its rear bumper pointed straight up. It hadn't even returned to all four tires before Cannon was giving the performance a perfect 10.
Cannon turned his attention to the giant scoreboard. Monster Mutt had been the leader in the clubhouse after rolling completely over during its run. It probably wasn't intentional but it had earned a 9.01 score. Cannon stared in anticipation, knees on his seats and hands gripping both armrests with white knuckles.
When the scoreboard showed 9.53, whatever disappointment he felt from earlier dissipated like so much exhaust fumes. It was redemption. In that moment there was only pure, unadulterated joy in his face. He threw his arms up in a triumphant "V" of vicarious victory and gave his little friend one of the most spirited high fives I've ever seen. The authenticity of his emotions made it beautiful.
Both boys left the stadiums with giant smiles. Both of their chosen trucks were winners. The next morning, I awoke to Cannon making engine noises as his mini monster truck conquered an obstacle course of Legos and Hot Wheels cars. I can tell that Grave Digger has a new fan for life. After seeing the happiness he brought to my son, I guess I am too.
IF YOU GO:
Monster Jam will return to Raymond James Stadium on February 3rd and will feature appearances by fan favorites Grave Digger, El Toro Loco, Soldier Fortune, Cleatus, and Hot Wheels. Tickets, which start at just $15 for reserved seating, are on sale now at the Raymond James box office, online at www.ticketmaster.com, or charge by phone at 800-745-3000. Tickets are subject to facility fees, plus convenience and handling charges.
If you go, I'd highly recommend the the Pit Party Early Access Pass which gives you and your family unprecedented access to the Monster Jam trucks and drivers. This unique experience gives ticketholders access to see the trucks up close, take pictures, meet the drivers and get their autographs. The Pit Party Early Access Pass must be accompanied by a same-day event ticket. Quantities are limited so act now.
For more information or for the latest dates and times, check out MonsterJam.com or follow along on Facebook, Twitter, Instagram and YouTube.
Tampa Things to Do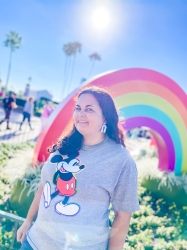 Latest posts by Krystal | Sunny Sweet Days
(see all)