4 Tips on Utilizing Mirrors to Enhance a Space
Mirrors are more than tools in which to see your reflection; they can be used to enhance your home immeasurably. Mirrors of all sizes and shapes can be used as an element of design to bring together your style while enhancing a space. Here are four ways you can utilize mirrors in your home.
Double the Appearance of Windows
When placed in the proper position, mirrors can double the appearance of windows that you have in your home. Position them on the wall across from the actual windows and their reflection will give the impression that the room boasts another set. Choose curtains and window dressings that you would be fine with having in more than one space as they, too, will be showcased in the reflection and will be doubly featured in the room.
Reduce the Feel of Clutter
Do you have a room that feels cramped the moment you place a piece of furniture in it? Set a large mirror behind your sofa or other large piece to allow the space to feel less cluttered. This allows you to place more furniture in a room without the sense of claustrophobia that sometimes accompanies large pieces in not-so-large areas. For the best result, choose a piece sizable enough that it can be set on the floor and reaches the majority of the way up the wall. Mirrors, in general, can be used to expand a space, so add in multiple in a small room to give the illusion of a much bigger place.
Having a mirror can brighten a room considerably due to its ability to reflect any and all sources of light. This is especially helpful in hallways and entryways where natural light has a more difficult time filtering through, leaving you with a dimmer space. Position a mirror in such a way that it can reflect the light from a window or lamp.
When you have a piece of artwork that you love, what is better than doubling its presence in your home? Showcase your favorite pieces by placing a mirror across from the work to allow it to be seen from more than one vantage point. Be sure to choose a mirror style that reflects the style of the artwork to bring them together.
Mirrors can be used to enhance any room. Take time to find the styles and sizes that work best for you then get ready to see your space come alive.
Home Decor Ideas
Home Improvement Ideas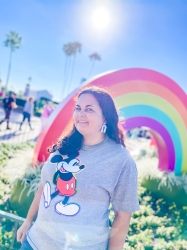 Latest posts by Krystal | Sunny Sweet Days
(see all)