How Minimalism Can Help You and Your Home
Minimalism is kind of the trend of the year. Everyone is talking about doing less, buying less, and living a minimal life. While I am the kind of person who collects things (like planners!) and is mildly obsessed with all of the cute dollar items at Target, I try to live a minimal life. I don't like having a lot of clothes or knick knacks. I'm all about decluttering and donating. Here are a few reasons why being a minimalist can help you!
1. Lower your stress levels. When you have fewer possessions, you may feel less stressed! I know that I get anxious when I see a counter piled high with bills or a dusty china cabinet with too many dishes. With less stuff, you don't have to worry as much about maintaining, protecting, or repairing it. This reminds me of our townhouse too. While my husband misses our big house, I love having a smaller living area. Less rooms to clean and no yard to maintain!
2. You have more money. If you buy less, you obviously have more money. Track your purchases for the next month and see how you do. You will notice just what you're spending and when.
3. You clean less! Perhaps the best part of living a minimalist lifestyle is the fact that you don't have to clean as often. Less dusting, washing, and vacuuming! Try to only have a few cups or dishes and teach your family to reuse items. For example, having only one water cup for the week or just one towel.
4. You have more free time. If you're shopping less, you're earning more free time to do things you LOVE like a hobby! While I do love to shop, I also like to work on my side businesses. My daily trips to Target are no longer a part of my life. Instead, I use my free time to do more of the things I love.
5. You feel "freer." It is one of my dreams to travel the country in an RV. That would mean giving up all of my belongings and being on the GO! By downsizing and having less stuff, you will certainly feel more free to explore.
6. The environment needs you. Did you know that all your boxes and trash from "stuff" has to go somewhere?! The idea of "fast fashion" is something you should look up if you're interested in how the cheap trendy fashion we buy is not good for the environment. Buy less, enjoy your life, and the earth will thank you!
If you're new to the idea of minimalism, I'd love to hear how you hope to make small changes this year. Sometimes just a quick decluttering session can make you feel like more of a minimalist, and you will instantly feel the benefits!
You can try these 5 Tips for Taking Care of Your Custom Kitchen Cabinets to help your home too!
Minimalism Tips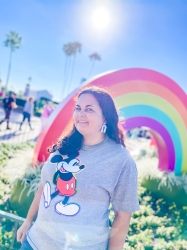 Latest posts by Krystal | Sunny Sweet Days
(see all)