How to Set New Goals With the Living Well Planner
It might only be January 2nd, but I certainly feel behind. While others have proclaimed their resolutions or declared their "one word" to define 2016, I am still catching up on 2015 tasks. While I hope to have them all finished by Monday, I am using this weekend to catch up. While I'm digging out from under a cluttered inbox and a messy desk, I decided to start setting up my plan for the new year. Here are a few things that I'm implementing for 2016, and I'm also showing a peek inside the Living Planner from Living Well Spending Less. It's a cheerful and colorful way to organize your year. It was created by Ruth Soukup who manages the blog Living Well Spending Less. She has written a few books, and she has created a course for bloggers.
Write it down. Duh. I took a goals workshop in 2013, and it changed the way that I created goals. I had no idea that it would be more helpful to reference my goals often and to come up with both bigger goals and also smaller (and easier to reach!) weekly goals. When I flipped through the Living Well Planner, I loved the goal setting pages. The monthly goals page has a place for your to write down all your must dos along with home improvement lists and even a place to write down people you want to connect with. If I don't use space in my planner to track my goals, I simply forget about them. I know that sounds silly. If it's important enough to want badly enough, how do you just forget it? I simply get lost in the everyday tasks of my work and home life!
Put your goals in your email. I spend the most time in my inbox when I'm on the computer. Whether I'm replying to email pitches or creating newsletters for my website, I know that I spend probably a bit too much time on GMail. I was using a tool called Productive Inbox that keeps a running to do list in your email inbox, however, it is no longer going to be working. Instead, I'll be switching to ToDoist since there is a browser extension and you can keep track of your to do list right inside your inbox!
Create a goals binder or try a workbook. If you REALLY want to separate your goals and reference them often, use a tool like PowerSheets to keep track of your goals! These worksheets are AMAZING and let you create a year's worth of goals and accountability. I also picked up The Conquer Kit Workbook and Your Best Year 2016. I'll be sure to share reviews of all of these products soon! Sometimes it just takes a nice afternoon with a few Sharpies to fill out a few pages of a goals workbook to really visualize what your best year will look like!
Set reminders on your phone. To actually track and reach my goals requires a lot of reminders. I don't know why, but I can't seem to focus when I'm working, traveling, or lounging with Netflix. I set reminders on my phone so that I get things done! For example, I set weekly reminders to go through coupons on Sunday morning. I set a reminder to meal plan on Sunday night. I set a reminder to turn on the crock pot or to defrost meat. Can you guess that one of my goals is to meal plan and use my crock pot more frequently? I also try to use my Jawbone wristband to vibrate when it's time to take a quick walk after I've been sitting down for too long.
Let the simple tasks run on auto pilot. I used to be SO against automatically paying my bills, but I gave in. I don't have to remember due dates since they're all automatically debited from my account. I also make sure to automate all of my social media, and I use IFTTT (If This Then That) to re-share content across different social networks. You can also use IFTTT to keep track of data in Google Documents (for example, collect Twitter links you share) or to pin Instagram photos on Pinterest (I do this to track the #BloggersGetSocial Instagram challenge). There are so many options to set up automation! I have subscriptions on Amazon for my favorite soda and snacks, I use ePantry for automatic toiletry shipments, and there are so many other companies out there that can help you cross off those simple to do list tasks forever! Use your planner to track when those automatic payments are taken out and when you can expect your subscription items in the mail.

My take on this planner: It's totally colorful which is motivational, but the cover is bare. You can get crafty with Modpodge and collage up your own message, but I'm far too lazy for that. There are planner stickers you can buy instead to add some color. The size (The planner pages are 8.5×11″ The cover is approximately 9.5×11.5″) is perfect for my desk. I wouldn't be able to carry this anywhere, but I usually don't take my planner on the go anyway since I work at home. The pages are thin, but the bright white paper is a plus.

Since it's undated, you can start using it whenever you get it! I kind of hate the idea of "starting fresh" on January 1. Like I mentioned earlier, I'm still SO behind from last year already. I would love to use an undated planner so that I can use it when I'm ready.

The weekly view has notes for each day, a must do section, and a full meal planning area for breakfasts, lunches, and dinners. It's pretty robust for me, and I don't need to track all of my meals like this. I would use those spaces for additional to dos or maybe track my vitamins and water intake.

At $45 on sale right now, it's cheaper than some of my other favorite planners. However, I am gifting this planner to someone who can use it since I need something a bit different to stay organized.
How do you create and track goals? What tasks do you automate?
[amazon-related-products keywords="ruth soukup"]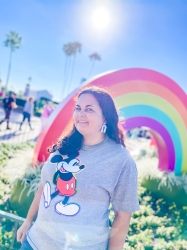 Latest posts by Krystal | Sunny Sweet Days
(see all)