Favorite Feel Good Podcasts: Lifestyle Podcasts to Inspire You
Since I work from home, I need good tunes and inspirational podcasts to keep me going on long days. It's one thing to work at an office where you can take a walk or have lunch with coworkers. It's quite another to be isolated at home! Between virtual meetings and emails, I find myself looking for "feel good" podcasts to follow. A burst of creativity and inspiration throughout the work day is just what I need to stay focused. With my new Google Chromecast Audio device, I can now stream lifestyle podcasts directly from Spotify to my favorite speaker.
The Google Chromecast Audio is available at Best Buy, and this sweet piece of technology lets you play music on your speakers, new or old, wirelessly from your phone, laptop, or tablet. Since it uses WiFi instead of Bluetooth, the sound is crystal clear! I set mine up on our home theater system and upstairs in the office on a regular old speaker. Talk about a BIG difference. I was up and running in a few minutes by using my phone to play, pause, and change the volume from anywhere in my house.
You can still text or call without interrupting what is playing or draining your battery. You can stream millions of songs, radio stations, podcasts, and more through apps like Pandora, Spotify, YouTube Music, and Google Play Music.
 I'm a bit of a podcast junkie. It's why I've started TWO podcasts – I just love them so much! I find myself drawn to podcasts about true crime OR happier stories of inspiration and time-management strategies. These "feel good" podcasts are worth the listen.
 Favorite Feel Good Podcasts
1. Happier by Gretchen Rubin. She is one of my favorite authors (The Happiness Project, Better Than Before), and I find her discussions about habits and happiness to be fascinating. She inspires me to be a better person each day.
2. Real Simple. The variety of topics produced by Real Simple never is boring.
3. GTD. Raise your hand if you're a time management addict?! I love planners, calendars, and all things related to "to do" lists.
4. Balanced Bites. I do need inspiration eat better, and this is a paleo podcast for food inspiration.
5. Organize Mindfully. Exactly what it promises. Get inspired to organize your entire life.
6. The Creative Life Podcast.
7. Edit Your Life. A variety of lifestyle topics that leaves me feel refreshed!
What are your favorite lifestyle podcasts? Learn How to Subscribe to Podcasts to get started!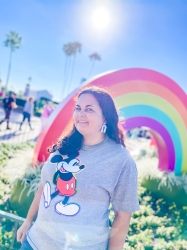 Latest posts by Krystal | Sunny Sweet Days
(see all)