Splash and Explore at Legoland Florida: Legoland Water Park Florida
Looking for Legoland Florida reviews? I have you covered!

Legoland Florida has been on my radar ever since it opened in Winter Haven, and it was time my family and I made the trip to go. With the addition of a Legoland water park Florida and Duplo Valley, a haven for toddlers, I knew this was the perfect time drive north and get our Lego on. While I was familiar with some of the available attractions at Legoland, I was actually surprised by how many roller coasters, shows, and attractions the park had. And, bonus, Legoland was not only baby-friendly…but it was toddler-friendly as well!

We headed to the ticket windows to get passes for both Legoland and the water park. It was too hot to not enjoy the wave pool, and I definitely recommend this if you are planning a Legoland trip! You can do both in one day and enjoy each park separately.
Legoland Florida Reviews
When we arrived, we didn't really have a plan. We needed water, a snack, and fun attractions! We are the type of theme park goers that are spontaneous; we hadn't picked up a park map or developed a plan of action for Legoland. We just wanted to enjoy the park and make sure we ended up at the water park. I had no idea how large Legoland was and the variety of attractions available. There were shows, 4D movies, character meet and greets, rides including roller coasters, water rides, splash zones, retail shops, tons of food stands and restaurants, and historic Cypress Gardens is tucked away near the water. Cypress Gardens was a popular botanical garden theme park when I was growing up, but I had never visited. I was surprised to see it available to guests of Legoland (and it was truly worth the walk through!).
Duplo Valley
This was our first stop since it was close to the entrance, and we could have stayed here for hours (in fact, we made two trips to Duplo Valley and did different things each time). The outdoor mini play are was the first thing we tackled. Piles of foam legos, a slide, and a playhouse kept my little one busy while mama refueled with a soda and popcorn from the nearby stand.

There was a nearby splash area (we avoided this since we were heading to the water park shortly), the Duplo farm which was inside and AIR-CONDITIONED and featured a toddler play area (more foam blocks, bean bags and all around fun), a tractor ride, a train ride, and a baby care center. I want to really highlight the baby care center here so it doesn't get buried, but Legoland was super baby and toddler-friendly. I was amazed at the high-quality baby care center that included private nursing rooms with rocking chairs, changing stations, and even charging stations. Yes, there was a place to charge your phone. If we were traveling with children of mixed ages, this would be the perfect place to meet up and hang out while the older ones did the rides and the little ones can relax in the a/c. Kudos to you, Legoland.

My kiddo was quite happy playing with foam blocks all day, but there were other areas to explore and things to do!

And, well, we learned that he isn't a fan of moving trains just yet. Maybe next time?
Miniland
Legoland is spread out with various "worlds" including Miniland. Miniland is a cute place to walk through and see renowned landmarks made out of Legos.

Keep reading for more Legoland!

Many of the "mini" cities featured moving pieces and music to listen to.

The band in from of the White House played and marched around!
Miniland featured Daytona, the Kennedy Space Center, Florida (including Tampa and Miami!), Pirates' Shores, California, NYC, DC, and Vegas. Here's a clip of Miniland in action:

Other highlights of our trip inside Legoland included The World of Chima and Lego Kingdoms.

The World of Chima had another splash area to run through (Cragger's Swamp) and a fun water ride called Quest for Chi. There was a splash area to watch the boats come by and "battle" them with water guns. My little guy loved this part!

Lego Kingdoms had beautiful decor and a fun gift shop with play swords and armor. My husband rode the roller coaster here without a wait. We also indulged in FOOD here. We stopped at Castle Burgers, and I highly recommend it. It was about $9 for a burger, fries, AND a drink.

For theme park food, this was just what I needed after a day of walking around! There were other places to eat around the park, including an all-you-can-eat buffet, and they all seemed affordable.

My little dude is ready to explore…what's next?

While we didn't make it to any of the shows, the Pirates Cove Live Water Ski Show looked awesome! Since there was rain on the horizon, one of the showtimes was rescheduled. Lucky for us, the rain never came! Fun Florida Fact: It will rain every day in the summer. Probably. Sometimes the sun still shines or the "rain" lasts about five minutes. If you're ever at a theme park and want to leave because a storm is on the way, don't! Summer weather is so unpredictable. I really did think it was going to storm, but it never came which is awesome because we had a water park to enjoy!
Legoland Water Park Florida
If you are heading to Legoland, I definitely recommend upgrading your ticket to experience the water park. The water park is large enough to have many attractions to enjoy, yet small enough so that you can fit it in your already busy day at the park. Since my son is almost two, he needed a ticket to enter ($3). He didn't need a ticket to enjoy Legoland though (the children's rate starts at 3 years old).

There are tall slides, tube slides, a giant play area, Build-a-Raft which is similar to a lazy river experience, a wave pool, a toddler friendly play area, and a restaurant with cold drinks! We enjoyed a yard full of slushie (which was a bargain since refills were cheap). But, it was time to put the camera in a locker, let's get out the Go Pro. We took hundreds of pictures with the waterproof camera, so here was a taste of our time at the Legoland Water Park:

We started off in the wave pool. It was crowded, but there were a lot of chairs still available. There were legos EVERYWHERE including foam legos IN the wave pool. As you can guess, my son was overjoyed at that!

We spent a lot of time in the toddler area with the animals that sprayed water and the two slides. The bottom left photo is my "raft" from the Build-a-Raft lazy river. Again, tons of foam bricks to keep the little ones entertained while you relax. I loved that my son was able to enjoy slides and attractions even though he is a toddler. Again, I thought the overall Legoland experience catered to children of all ages. Check out his first water slide adventure!

He loved it. I promise.
Cypress Gardens

I heard about Cypress Gardens growing up in Florida, but I had never made the trip. I had thought it had long closed down, so I was super surprised to see the beautiful botanical gardens on the park map. Our little guy was out for a nap, so this was the perfect time to stroll around. And, with all the shade and trees, it felt about ten degrees cooler inside!

I saw a raccoon crossing the sidewalk, tons of bananas growing, the beautiful gazebo, and the star of Cypress Gardens, the historic banyan tree. I could have stayed here forever taking photos. It was so peaceful!

If you're worried about time, this only took about ten or fifteen minutes to walk through.
Before You Go
Consider adding the water park to your ticket. I thought it was a MUST especially in the Florida summer.
Pack accordingly. Sunscreen, snacks/water are allowed, and your camera of course! We also brought our own stroller though rentals are available.
Think about what you're going to wear. This is serious! If you are attending both the water park and Legoland, bring your bathing suit to change into or wear your swim trunks/rashguard. I would also bring a change of clothes for after the water park. You don't want to put back on your sweaty clothes from earlier! I wore shorts, flip flops, and a tankini swim suit top with a shirt on over it. Legoland is strict with dress code. You can't walk around the theme park in a bikini so plan ahead.
While You're There

Enjoy the water! There were misting stations you could walk through along with a few splash areas to keep cool.

Say hello to the Lego characters around the park. Most of them talk! This is snoring grandpa.

Take lots of photos!

Pay attention to detail. There were so many photo opportunities throughout the park. I loved this waterfall with lego animals.

Ride Island in the Sky. It's a quick way to cool off and see Legoland and the surrounding area from high in the sky.
 Have you ever been to Legoland? When is your next Florida vacation? 🙂 You can find more of our Legoland memories on my Florida travel section!
Updated for 2019: Visit LEGO Movie World: LEGOLAND Florida!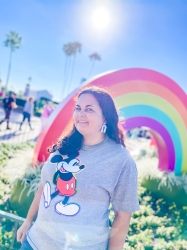 Latest posts by Krystal | Sunny Sweet Days
(see all)