Laundry Room Storage Solutions
The laundry room is sometimes the most daunting room of the house. Sometimes the laundry room is located in the basement among open wires, pipes, and creaking sounds. The walls are an unfinished concrete. Sometimes the laundry room is in a small closet, without windows, on either the upper or lower level of your home. As much as we would love to make the laundry room a kind of sanctuary (after all, you are having to do the semi-unpleasant task of actual laundry there and should have a nice place to do it in), many of us fail to give the laundry room the attention or time it can really benefit from. As far as laundry room organization goes, you can usually find a wire shelf for the storage of laundry detergent and other supplies, but sometimes, that's it.
Obviously, laundry needs to get done, but we dread it because of the dismal and disorganized room we're faced with. The mess makes it so nobody wants to spend any time in there and before you know it, laundry is spilling out of the room. Laundry chaos ensues when you end up with unfinished laundry, laundry that's done but not put away, and even clean and dirty laundry mixed together. By organizing a laundry room, it becomes a more pleasant area to be in and everyone is more likely to keep it that way, which means putting clothes away when they're done.
Essentials in a laundry room include:
Laundry detergent. Go ahead and get your favorite scent!
Hampers. Do whatever works for you and your space. This could mean one hamper for everything, a mix of hampers for different items (clothes and towels), or even a mix of hampers depending on the level of dirtiness on the clothes.
A folding surface. If your laundry room has space, this is fantastic. You can finish and entire load right there and all that's left is delivering the finished clothing to the appropriate room for easy put-away.
An ironing board and iron. If the laundry room houses everything you need to get clothes ready for use, you'll be able to avoid these items all around the house.
This essential list does take some space, which is fine for larger laundry rooms, but sometimes you have to work with a smaller space. For those cases, it's time for a little creativity to make it work.
Consider painting the shelving in your laundry room with something colorful, or even something peaceful. It's your space so make it into the colors you love most. These colors can help everyone remember what should be organized where. Instead of just placing some of the essentials, like laundry detergent, dryer sheets and stain removal tools, on the shelf, a storage bin that they can all sit in will keep everything together and organized. You may also be able to add a narrow cupboard or even some hooks to store the ironing board and iron. To fold clothes, go ahead and use the top of the washer and dryer!
For the same space use, think about buying a hamper that's housed in a cupboard instead of the hamper just being open. Not only will the pile of dirty clothes be hidden that way, but cupboards typically have small storage solutions for things like a lint roller or wrinkle release spray. In any laundry room you'll also want a trash can to dispose of the dryer fuzz, anything you may have left over in your pockets, and those used lint roller sheets. A creative solution for a cupboard, if you can't find one that works at your local home store, is kitchen cabinets! Depending on the size, it may work out for your needs.
The fun extras
To make the laundry room a little more welcoming, think about painting an entire wall a bright color. Also, because we all know that ironing, sorting and folding laundry isn't exactly a thrilling task, add in some form of entertainment to the room. Hopefully, this'll encourage somebody (even if it's only yourself!) to stick around a little longer to finish what needs to be done. Entertainment can mean a small TV or Bluetooth speakers so you can stream music.
See? The laundry room doesn't have to be a space that you want nothing to do with except avoid. Adding these simple storage solutions, some color, and media can turn laundry into a more pleasant task.
Looking for some more organizational tips? Right this way!
Laundry Room Organization Tips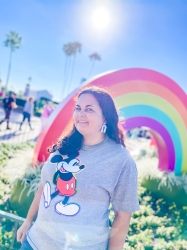 Latest posts by Krystal | Sunny Sweet Days
(see all)