Home Improvement: Top 4 Landscaping Ideas
A well-designed and maintained landscape can significantly enhance the aesthetic appeal of a home, making it more inviting and increasing its value. If you are looking to improve your outdoor space may wonder where to start, which is why we've come up with the top 4 landscaping ideas that you can take inspiration from to add some new flair to your home.
Create A Garden
Whether you are looking to plant beautiful flowers or grow your own herbs and vegetables, a garden can be tailored to your specific preferences. Updating your home landscaping in this way can add a touch of elegance to your garden by incorporating raised garden beds or installing a trellis to grow climbing plants like tomatoes and cucumbers. It's also a great hobby to pick up, as you learn to cultivate and maintain what you've grown.
Build A Patio
Building a patio in your yard is an excellent way to create an outdoor living space that you can enjoy with family and friends. Patios provide a comfortable area for outdoor dining, relaxing, and entertaining, and can even increase the value of your home. You can choose from a variety of materials, such as concrete, stone, or brick, to match your home's exterior and personal style. Adding a pergola or outdoor furniture, such as chairs, tables, and a grill, can make your patio even more inviting and functional. With a well-designed and constructed patio, you can transform your outdoor space into a welcoming and comfortable extension of your home.
Add A Water Feature
The sound of running water from a small fountain can create a serene atmosphere, making your outdoor space feel like a peaceful oasis. Water features come in various shapes and sizes, so you can choose the one that best fits your yard and personal preferences. Whether you want a small fountain for a corner of your yard or a larger pond as a focal point, a water feature can add an elegant touch to your outdoor living area. If you are a lover of wildlife, a pond can be a great habitat for frogs, fish and birds.
Experiment With Some Outdoor Lighting
Adding outdoor lighting to your home can enhance its beauty at night and improve its security. Landscape lighting can be used to highlight the beauty of trees, shrubs, and other features in your yard, creating a stunning nighttime ambiance. Additionally, motion sensor lights can be installed to deter intruders and improve safety around your property. With outdoor lighting, you can also extend the time you spend outdoors and enjoy your yard long after the sun has gone down. You can choose from a variety of lighting options, including solar-powered lights, LED lights, and low-voltage systems, to match your home's aesthetic and meet your specific lighting needs.
In conclusion, improving your home's outdoor space can greatly enhance its value, aesthetic appeal, and functionality. The four landscaping ideas we've explored – creating a garden, installing a water feature, building a patio, and adding outdoor lighting – can transform your yard into a beautiful oasis. By adding color, texture, and a sense of tranquility, these landscaping ideas can create a welcoming and comfortable extension of your home.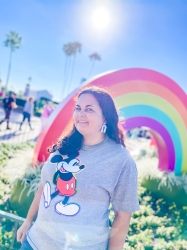 Latest posts by Krystal | Sunny Sweet Days
(see all)