Remodeling Your Kitchen? Here Are The Top Materials For Kitchen Countertops.
You are probably thinking of giving your kitchen a facelift? Or maybe you just want to wear a new look to the kitchen by changing your countertop. That's okay, but there are things you may want to know.
Over the years, your countertop can get boring, and the kitchen being one of the most used spaces in the home may have lost its appeal, so it gets to a time when you want to make sure it is still your taste. One way to do it is by changing your kitchen countertop, but how do you know what to do?
Picking a particular material for your kitchen countertop is a massive decision because you are open to a range of options. Before deciding which material to use for the countertop, it is essential to consider your budget, the advantages and disadvantages of each material, and its maintenance after installation.
The best countertop choice can make your kitchen more functional, so read on carefully to discover the proper material for your kitchen countertop.
Soapstone
Soapstone is a natural stone naturally sourced from the Appalachian mountains and imported from Finland or Brazil. What distinguishes soapstone from other materials is that it contains a high percentage of naturally occurring talc, which makes the material have a soap-like texture or soft feeling. If you are not the one to cut hard stuff on your kitchen countertop, this is one of the accurate materials to use when you want to remodel your kitchen.
This particular material also requires minimum maintenance when compared to others like granite and marble. It is non-porous and comes in a different range of gray like blue or green undertone if you like to experiment with colors.
Laminate
If you are looking for a pocket-friendly countertop material that doesn't require much, consider laminate. The old laminate was quite popular in the 80s and 90s and had a pristine look. The new laminate has a different, more modern look. The newer laminate gives off the face of stone and wood at a price that is quite affordable.
Meanwhile, being cost-effective is not the only advantage of laminate material. It is also non-porous, which means it cannot absorb bacteria like other materials.
HDPE Sheets
HDPE sheets are a multipurpose material that is highly durable, making them compatible with different uses. It does not splinter or absorb harmful bacteria, making it a perfect choice if you consider a high-density polyethylene countertop option. HDPE is moisture resistant and can double as a cutting board.
Compared to other polythene, HDPE offers considerably high rigidity and tensile strength, especially at low temperatures.
Quartz
You can classify quartz as one of the best kitchen countertop materials to use if you have a large family and cook a lot. This is because durability is its advantage, and it can withstand significant pressure. The exciting thing is that they do not make it 100 percent quartz, but they are a composite stone engineered from natural quartz combined with a resin binder.
This material is also non-porous, incredibly hard, and never to be resealed. It is also a brilliant choice if you prefer a natural-looking surface, and quartz being artificial fits perfectly into your choice.
Granite
Granite has been around for years and serves as a global standard because it is a natural stone with excellent durability. Granite comes in dark and light colors in different tones you can choose from and many flecks and variations. Another important thing that makes granite stand out is cutting it into different varieties of edge choices, including beveled, ogee, square, and half and full bullnose.
It is easy to clean granite countertops, but don't use harsh cleaning products to maintain their originality. Granite is heat-resistant, so you can always drop your pot on the countertop. However, it is not advisable to cut directly on granite because it is so complex that it can eventually make your knife's sharpness get dull.
Stainless Steel
Stainless steel is used mainly in commercial kitchens, but recently, the trends have changed, and it is becoming more popular in residential kitchens. If you want a stylish look for your countertop, this is the way to go.
If you are big on maintenance and clean your stainless steel regularly, it will keep its original look, but otherwise, you may find it hard to clean as the stain becomes more stubborn eventually.
Changing your countertop is one way you can remodel your kitchen and make it look more attractive. Therefore, it is essential to choose the most suitable material for your kitchen's countertop. A good decision here will make you happy for a long time.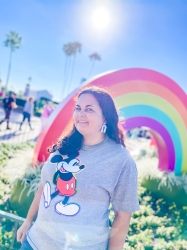 Latest posts by Krystal | Sunny Sweet Days
(see all)