Five Kid Friendly Travel Tips
Whether you're planning a spring break road trip or a summer vacation, this is the BEST time of year to get organized with your travel plans. I lack organization around my home, but when it comes to a a weekend away I am all about it. Traveling with a toddler can be daunting, but luckily it isn't impossible. Here are a few tips to have fun, enjoy your travels, and celebrate your time away!

1. Pack snacks. I never realized how difficult it might be to get my toddler's favorite snacks items or beverages while on the road. Sometimes I'm surprised places don't even offer milk as an option! Now that I know better, we never leave home without a special road trip snack package! No more unnecessary stops at stores or roadside shops. Not only does this save us time, but it also saves us money.

We are already eagerly planning our next trip to see the Mouse in Orlando, so I've got a few ideas for what to pack this time around. First up? GoldfishⓇ! Goldfish is now offering a gluten-free option with Goldfish Puffs! There is an increasing demand for gluten-free products both for allergies as well as wellness. I am so glad that I can offer gluten-free snacks to my family.

Goldfish Puffs is a corn based puffed snack that offers a variety of bold flavors in a fun Goldfish shape. YUM! They are crunchy, tasty, and easy to snack on while on the road. They're perfect for lazy days in the sun, busy days in the car, and all of those special moments in between. The bag is also resealable which makes it the perfect option for travel!
2. Don't forget the sunscreen. I used to just say "I'll buy sunscreen on the way…" and somehow never make it to the store. Or, it would add time to our trip which isn't cool! I try to bring everything I know that I need to avoid making any stops, and sunscreen is oh so important. Even in the winter when you don't think you're at risk for sun exposure, YOU ARE! As a native Floridian, I'm always sharing this tip with anyone who will listen.
3. Bring your own toys. This is another tip for those traveling with kids. My son doesn't leave the house without a bouncy ball, a few sand toys, and cars. You just never know! Keeping busy kids occupied will save your sanity on a long car ride and it will also give them something to do while you enjoy your vacation. Sure, my son loved when we took him to his first theme park, but he still wanted to play with his cars while we sat in line for rides.

We also bring a few pool toys and inflatables. Hotels and stores in tourist areas always raise their prices, so I'd rather just bring my own dollar store shovels and pails!
4. Extra towels, por favor. I never rely on hotels for towels anymore. Maybe I'm particular, but sometimes I just am not impressed with the quality. I bring my favorite colorful and cozy towels whenever I take a trip!

5. Waterproof camera. This is definitely more a splurge travel tip, but if you can, try to bring a waterproof camera. Now that everyone is using their phones to capture special moments, I think we sometimes forget that these are our vacation memories! Bring a waterproof camera so that you can take it with you everywhere your phone can't go. From slides to roller coasters, a durable waterproof camera has become a family favorite.
What are your travel essentials? Do you have any trips lined up?
[amazon-related-products keywords="beach towels"]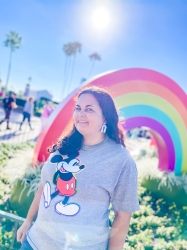 Latest posts by Krystal | Sunny Sweet Days
(see all)