Plan a Trip to Universal Islands Of Adventure: Islands of Adventure Ride List
Islands Of Adventure is a family favorite theme park that's part of the Universal Orlando experience. Known for its adventurous thrill rides and amazing theming, Islands Of Adventure will delight the whole family. This park features incredibly immersive experiences, including the Marvel Super Hero Island, Hogsmeade Village, and Jurassic Park. Islands Of Adventure is home to some of Universal Orlando's favorite thrill rides, Jurassic World VelicoCoaster and The Incredible Hulk Coaster. Use this guide to Universal Islands Of Adventure to make amazing memories with your family.
Let's Go to Islands of Adventure!
Park Address: 6000 Universal Blvd, Orlando, FL 32819
Hours: Daily from 9 am to 6 pm (this changes depending on the time of year)
Cost: Tickets start at $109 per day for a single day, 3 day tickets (2 parks) begin at $233 per adult ticket.
When Should We Go to Islands of Adventure?
The best time of year to visit Islands Of Adventure is mid-January to mid-February. The weather is amazing and both the hotel prices and ticket prices are lower. Another good time is September through early November. The busiest time in the park is the week between Christmas and New Year. Other busy times include June through August and Thanksgiving. Since travel restrictions are lifting, it is hard to truly estimate crowds. There feels like there is no "off-season" these days since people who have been waiting to travel until they felt safe to do so.
It's also a good idea to keep the Hurricane season in mind when planning your trip to Universal Islands Of Adventure. The season is typically June through November, and the peak season is August through October. Visiting during this time is risky, but usually fine. If you want to make the most of your visit to Universal Islands Of Adventure, consider applying for early admission Universal as this special privilege allows you to enter the park before regular opening hours and enjoy shorter wait times for popular attractions. By taking advantage of this option, you can maximize your time and experience more of what the park has to offer.
Do I Need More Than 1 Day at Universal Studios?
It is possible to see all of Universal Islands Of Adventure in one day but it would be an incredibly packed day. You'll want to give yourself at least a few days because this park is incredibly immersive, and you'll want to take in all the small details. If you are visiting more than one Universal Orlando park, then give yourself at least 2 full days.
Where To Stay When Visiting Universal Islands Of Adventure
The Universal Resort hotels are perfect for any budget and come with many amazing perks. There are a total of 8 hotel properties onsite at Universal, and they are generally broken down into categories, including premiere, preferred, prime value and value accommodations. These include:
Premier: Loews Portofino Bay, Loews Royal Pacific Resort, and Hard Rock Hotel at Universal Orlando. The premier hotels begin at $267+ per night.
Preferred: Loews Sapphire Falls Resort. The Loews Sapphire typically begins at $181+ per night.
Prime Value: Cabana Bay Beach Resort and Aventura Hotel. These budget friendly options begin at $131+ per night.
Value: Both Endless Summer Resorts, Surfside Inn and Dockside Inn. These are an amazing deal at $91+ per night.
Off-Site Hotel: Of course, there is always the option of staying off-site in Orlando. If you're on a tight budget, then this may be the best option for you. Staying off-site gives you more bang for your buck, but you'll also miss out on the Universal perks. There are an incredible amount of options for every budget in Orlando.
It is important to remember that at Universal, the perks with your stay depending on the category of the accommodations. However, all on-site resort guests have Early Park Admission. This allows you to enter the park an hour before it opens to enjoy select attractions. As well as complimentary shutter and water taxi services to the Universal parks and from the airport.
Tickets
Choosing tickets for your Universal vacation can be overwhelming. It's a great idea to ask yourself a few questions to find the best fit for you and your family.
How many parks would you like to visit? Universal Orlando has 3 parks, Universal Studios, Universal Islands Of Adventure, and Volcano Bay Waterpark. For example, if you are interested in visiting the Wizarding World Of Harry Potter, that is split between Universal Studios and Universal Islands Of Adventure. You'll want to get the park to park passes if you are visiting more than one park.
How many days are you staying in the park? At Universal Studios you can buy single-day tickets, 2-day, 3-day, 4-day and 5-day tickets. As mentioned above, if you are planning to visit more than one park then 3 days is optimal.
If you are visiting Universal Orlando, Park To Park passes are a great purchase and are a bit of a necessity if you are visiting more than one park. The cost of Park To Park passes is an additional $60 to $70 total.
If you aren't staying at a premiere resort, then Express Passes are a paid add-on. These passes allow you to have a shorter wait time, in a separate line than other guests.
Universal Islands Of Adventure Lands
The lands at Universal Islands Of Adventure have fun theming that truly pulls you into the experience. You'll want to pay close attention to all the small details. The lands include:
Port On Entry (Park entrance)
Wizarding World Of Harry Potter – Hogsmeade
Marvel Super Hero Island
Skull Island
Jurassic Park
Toon Lagoon
Seuss Landing
The Lost Continent
Islands of Adventure Ride List
Wizarding World Of Harry Potter—Hogsmeade
The Wizarding World Of Harry Potter is split up between Islands of Adventure and Universal Studios. At Islands of Adventure, you'll get to experience Hogsmeade complete with Hogwarts castle.
Hagrid's Magical Creature Motorbike Adventure: One of the newest additions to the Wizarding World, this thrill ride has been deemed one of the best rides in all of Florida. This rollercoaster is complete with surprises, animatronics and beautiful scenery. It's one of the best and most popular rides in the entire park.
Harry Potter and the Forbidden Journey: This fan favorite is one of the most popular rides at Islands of Adventure. The queue is inside the Hogwarts castle and the interactive nature makes the long wait times fun. Once on the journey, you'll fly through the grounds of Hogwarts on the ride of a lifetime. A word of caution: this ride tends to leave adults dizzy and nauseous.
Marvel Super Hero Island
If you're a Marvel universe fan, then you can't miss Marvel Super Hero Island. It's anything and everything Marvel, including themed restaurants, coasters and character meet and greets.
The Incredible Hulk Coaster: The Hulk Coaster is one of the premiere rides at Universal Islands Of Adventure. Although the coaster is 20 years old it still impresses with a quick launch and incredible corkscrews.
The Amazing Adventures Of Spider Man: This 3D simulation action packed adventure has you bobbing and weaving through a variety of Spider Man's unforgettable moments. The wait can get long for this ride so make sure to ride this thrilling simulation early in the day.
Skull Island
Skull Island has one ride and you can easily guess which attraction that is, Kong!
Skull Island: Reign Of Kong
This is a screen-based ride where you will encounter all the large inhabitants of Skull Island, including Kong himself. Keep an eye out for the giant animatronic Kong at the end of the ride.
Jurassic Park
Be transported to the land of dinosaurs, Jurassic Park. Themed after the hit 90s films and books, this land is incredibly immersive.
Jurassic World VelociCoaster: This is the latest addition to Universal Islands Of Adventure and is known as one of the best in the entire Universal and Walt Disney World. Roller coaster enthusiasts will appreciate all the thrilling twists and turns of the rip-roaring VelociCoaster.
Seuss Landing
Seuss Landing takes you into the whimsical world of Dr. Seuss and all the fun that goes with it!
The High In The Sky Trolley Train Ride: This trolley train ride will give you great aerial views of the park and a fantastic scenic overview of Seuss Landing.
The Lost Continent
While the lost continent is pretty sizable, it's also short on rides and attractions.
Posiden's Fury: Although this is widely considered a show, it consistently has wait times similar to rides and attractions at Universal Islands Of Adventure. This is a walk-through attraction where you explore the chambers of the temple of Poseidon. The show lasts about 10 minutes and features fun effects and some scary moments.
Universal's Islands of Adventure for Young Kids
With so many thrill rides, Universal's Islands of Adventure may not seem like the best theme park to take a young child to, but on our recent family vacation, we found no shortage of kid-friendly fun! My son is 5 years old and had a blast! In fact, I think he's the perfect age to take part and still be awestruck by the movie magic of it all. Here's what young kids can do at Universal's Islands of Adventure:
Meet their heroes. OK, the big kids might secretly enjoy this one, too… If you've got a superhero fan in your family, head straight to Marvel Super Hero Island to meet Spiderman, Captain America, Cyclops, Wolverine, Storm and Rogue, as well as Marvel Villains like Dr. Doom and The Green Goblin. Then, check out Dr. Seuss Character Zone for more fun and photo ops! Meet The Cat in the Hat, Sam I Am, Thing One and Thing Two, and The Grinch. Especially brave dinosaur lovers can get up close with a prehistoric predator at Raptor Encounter. There, guests can pet one of these nearly nine-foot-tall, cold-blooded hunters!
Wander through the Wizarding World of Harry Potter. While little ones may be too young to be familiar with Harry Potter, there's still plenty of magical fun to be had with them at Hogsmeade. The themed wizarding village has loads of elements to jumpstart those tiny imaginations! My son loved the family-friendly rollercoaster Flight of the Hippogriff and he was even tall enough to ride the motion simulated Harry Potter and the Forbidden Journey. On that one, you'll wander through the classrooms and corridors of Hogwarts before soaring high above the castle and encountering magical creatures! If you have park-to-park admission tickets, you can ride the Hogwarts Express from Hogsmeade (inside Islands of Adventure) to Diagon Alley (located inside Universal Studios Florida). On your way out, shop for sweets at Honeydukes, a spot that's sure to be any kid's favorite!
Explore the best playscapes in the state. Between Me Ship, The Olive; Camp Jurassic; and If I Ran the Zoo, your little ones will have plenty of unique, movie-themed playgrounds to enjoy. You can either join them or take a break in the shade as they run out some pent-up energy. (Many of the playgrounds have water elements to them, so be prepared for that.)
Ride the rides! Islands of Adventure is known for its rides and there are plenty of age-appropriate ones for kids. Pteranodon Flyers; The High in the Sky Seuss Trolley Train Ride; One Fish, Two Fish, Red Fish, Blue Fish; and they specifically made The Cat in the Hat with little ones in mind. The Amazing Adventures of Spider-Man and Popeye and Bluto's Bilge-Rat Barges are also safe for kids.
Shows At Universal Islands Of Adventure
Frog Choir: At this show in Hogsmeade, you'll get to hear the musical stylings of the choir of Hogwarts Schools of Witchcraft and Wizardry. Complete with giant croaking frogs just as they are in the Harry Potter films.
Oh! The Stories You'll Hear!: You can find this show in Seuss Landing, where whimsical characters like Cat In The Hat, Thing One and Thing Two, and the Grinch perform musical tellings of their stories.
Dining At Universal Islands Of Adventure
Islands Of Adventure has one of the most sought-after dining experiences in all of Universal Orlando, Mythos Restaurant. The restaurant is award-winning and features a mix of Mediterranean, Asian and American cuisine. The mythical setting is beautiful at this family-friendly full-service eatery.
Of course, fans of Harry Potter can grab a bite at the Three Broomsticks or a pint at Hog's Head pub in Hogsmeade. Kids will love Green Eggs And Ham and the Hop-On Pop Ice Cream Shop.
Character Encounters
Marvel Super Hero Island: Fans can meet the Marvel Super Heroes who regularly parade through Marvel Super Hero Island. Superhero meet and greets include Spider-Man, Captain America, Wolverine, Dr. Doom, and many more.
Dr. Seuss Character Zone: At Dr. Seuss Character Zone, kids can meet their favorite Seuss characters, including Sam I am, The Cat In The Hat, and the Grinch.
Tips For Universal Islands Of Adventure
The most popular rides in the park are Hagrid's Magical Creature Motorbike Adventure, VelociCoaster, and The Incredible Hulk Coaster. If you want to ride any of those without an insane wait, ride them right away in the morning. You can download the Universal Orlando Resort app to find up-to-date wait times on all the rides you're interested in.
Universal Dining Plans are a great idea for families. The parks offer several dining plan options that will save you both time and money. You can choose from full service or quick service plans and there is an option for every budget.
Don't completely overlook Port Of Entry, here you'll find a ton of themed restaurants and shops.
On top of all of this, you can expect character dining experiences and family-friendly shows to keep the fun going all day long! There's plenty to do with younger kids at this theme park, and my son can't wait to go back! No matter what you do at Universal Islands Of Adventure, you will have an amazing time packed with family fun!
What's the first thing you'll do on your family trip to Islands of Adventure? Don't forget to plan a trip to Universal Studios too!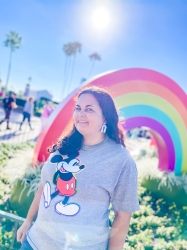 Latest posts by Krystal | Sunny Sweet Days
(see all)