Important Things To Consider Before Getting A Mortgage
When you're ready to buy a home, one of the biggest decisions you'll make is getting a mortgage. This can be a daunting task, but with the help of a reliable broker and some careful planning, it can be a smooth process. Here are some important things to consider before getting a mortgage: 
Find a Reputable Broker
When it comes to something as important as a mortgage, you want to make sure you're working with a reputable broker. Brokers can be a great resource in helping you find the right mortgage for your needs. You should do a quick Google search for New Zealand mortgage brokers or ask around for recommendations. But how can you tell if a broker is reputable?
Here are a few things to look for:
Check if the broker is licensed and registered with the financial regulator in your province or territory.
Make sure the broker belongs to an industry association
Ask around for referrals from friends or family who have recently purchased a home.
Read online reviews from past clients.
If you take the time to do your research upfront, it will pay off in the long run. Working with a reputable broker will help ensure you get the best mortgage for your needs.
Decide on the Type of Mortgage
There are many different types of mortgages available, so it's important to do your research and decide which one is right for you. Some common types of mortgages include fixed-rate, adjustable-rate, and interest-only loans. A fixed-rate mortgage has an interest rate that remains the same for the life of the loan. This type of loan provides stability and peace of mind because you'll know exactly how much your monthly payment will be. On the other hand, an adjustable-rate mortgage (ARM) has an interest rate that can change over time. The advantage of an ARM is that you may be able to get a lower interest rate than a fixed-rate mortgage. However, the downside is that your monthly payments could go up if interest rates rise. An interest-only loan is another option to consider. With this type of loan, you only have to pay the interest for a certain period of time. After that, you'll need to start paying down the principal of the loan. Interest-only loans can be a good option if you're trying to keep your monthly payments low.
Check Your Credit Score
Before applying for a mortgage, it's a good idea to check your credit score. This will give you an idea of where you stand and whether you need to take steps to improve your credit. To get your free credit score, you can request a report from one of the major credit bureaus. Once you have your score, you can start working on improving it if necessary. There are a few things you can do to improve your credit score, such as paying your bills on time, maintaining a good credit history, and keeping your credit balances low.
Settle Any Debts You Have
Another important thing to consider before applying for a mortgage is whether you have any debts that need to be paid off. If you have outstanding debts, it's a good idea to settle them before applying for a loan. This will help improve your chances of getting approved for a mortgage and may also help you get a better interest rate. In addition, by settling your debts before applying for a mortgage, you'll be able to focus on paying off your home loan instead of having to worry about other debts.
Have a Financial Plan in Place
Before you start the process of applying for a mortgage, it's important to have a financial plan in place on how you'll repay the loan. This includes having a budget to make sure your monthly mortgage payments are affordable, as well as putting away money for a down payment and closing costs. When constructing your financial plan, be sure to factor in things like property taxes, insurance, and potential repairs or renovations that may need to be made down the line.
If you're unsure of where to start when it comes to creating a financial plan, talking to a financial advisor can be helpful. They can give you guidance on what steps to take and what type of mortgage may be best for you based on your unique financial situation.
Check on Penalties
One last thing to consider before getting a mortgage is whether there are any penalties for early repayment. Some loans may have a prepayment penalty, which means you'll have to pay a fee if you pay off your loan early. It's important to be aware of this before you sign any loan documents. Besides a prepayment penalty, there may also be other fees associated with early repayments, such as a deferred interest charge. Be sure to ask your lender about any potential penalties before you agree to a loan.
By considering all of these factors before applying for a mortgage, you'll be in a much better position to get the loan that's right for you. By taking the time to do your research and prepare in advance, you can make the process of getting a mortgage much smoother and less stressful.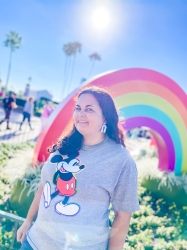 Latest posts by Krystal | Sunny Sweet Days
(see all)