How to Use a Filofax as a Wallet | Filofax Malden Pocket
If you are in the planner community, you know that the Filofax Malden is so nice. I picked one up for myself to use as a wallet, and have been loving this system. The teal Filofax Malden pocket matches my teal PenGems pen perfectly. Here's how to use a Filofax as a wallet.
The technical color of this Pocket Malden is Kingfisher blue.  The first step for setting up your wallet is to get a binder. The pocket-size Filofax is just perfect. You'll also need pocket-size dividers to create your sections.
How to Use a Filofax Pocket as a Wallet
For the first section in this book, I've included a monthly calendar. This is great for scheduling in appointments on the go.
My 2nd section is for goals. I love having this breakdown of goals right in my hand whenever I need a refresher or to remember what I'm working towards.
My next section is for habits, which ties into goals. This gives me a space to track my habits and make sure I'm keeping up with what needs to be done to reach my goals.
Next, I have these month on two-page inserts to keep track of bill due dates and important events.
In the next section, I have to-do lists, so I can create my to-do list and it is easily accessible
In my next section, I keep a running list of books to read, that way if I see them when I'm out I can pick them up and be able to get them read and checked off my list.
Finally, I use the last section to keep track of my cash envelopes for budgeting.
There is plenty of space in the front of this book for all of your banking cards, ID, and even a zipper pocket for change.
It is a chunky little planner but still so portable, it fits perfectly in my bag. The pocket is one of the smaller planners you can get, so it is great for all of these purposes and carrying on the go.
What else would you include in an on the go wallet planner? Share in the comments below!
Planner Reviews: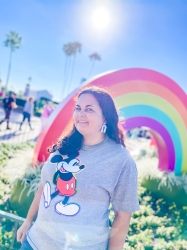 Latest posts by Krystal | Sunny Sweet Days
(see all)