How to Subscribe to Podcasts
As a society, we are such digital consumers. We listen to music online, we read books on tablets, and we use our phones for more than just calls. We constantly need stimulation and love to learn and listen on the go. Since I work at home, I need creative podcasts or playlists to motivate me throughout the day. I also need a way to listen to them effortlessly. Streaming on my computer while I work isn't a good system. It bogs down my machine and slows my workflow. The best way for me to listen to my podcasts? A wireless Bluetooth speaker.

I'm going to share how I subscribe and listen to my favorite podcasts, but I also want to show off my favorite new speaker. I have it in my office right now, but this weekend we used it out by the pool to stream my favorite Spotify playlists.
How to Subscribe to Podcasts
If you want to start listening to podcasts or need new ones to stream, look no further. There are three services that I use most frequently, and they each have their own benefits and shows. Not every show is on iTunes. I have learned that iTunes will accept or deny a show based on content or other reasons. I just launched a podcast over the summer, so now I am fully versed in where my podcasts need to go, how to upload it to a host, and more. This tutorial is designed to help you find podcasts to listen to on your shiny new Infinity One Speaker, and I hope it assists you in creating an amazingly interesting podcast playlist.
There are so many different ways to do this, and iTunes is one that you are familiar with. If you're an Apple user, you probably recognize the screenshot below. You can visit the iTunes Store and look at the new and noteworthy podcasts, most listened to episodes and shows, and more.

You can narrow down your podcast choices by searching in the search box on the top right. I searched for my podcast, Bloggers Get Social, to demonstrate how this works.

You can view all of the podcast episodes individually, or you can click on any of the podcast shows below. Once you find a podcast you like, you just need to click the subscribe bottom on the left. You can listen to iTunes on your Apple devices.
Want to listen to podcasts on other services or don't have an Apple device? Try Stitcher or Soundcloud. Both are streaming services that you can connect to your wireless Bluetooth speaker.

Stitcher is just for podcasts, and it's easy to find TONS of new things to listen to. With charts and podcast suggestions, you can find just another anything you want. You can use the app on your phone and "save" episodes to listen to for later.

As you can see, Stitcher is available on both the Apple App Store and Google Play. It offers over 40,000+ podcasts and radio shows.

Soundcloud is my new favorite. Not only is this where I host and publish my podcast, but you can see statistics as well. iTunes doesn't offer podcast owners stats for their shows (meaning you have NO idea how many people are listening!), but Soundcloud does. You can follow your favorite shows (similar to subscribe) and "like" and comment on particular shows. You can also embed podcast episodes into blog posts, create playlists, and of course, use the Soundcloud app on your phone to wirelessly transmit content to your Infinity One Speaker!

Beyond podcasts, I love using this speaker to listen to music while I work too. What's your sound style? Here are my Favorite Feel Good Podcasts: Lifestyle Podcasts to Inspire You.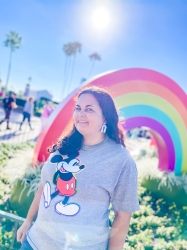 Latest posts by Krystal | Sunny Sweet Days
(see all)