How to Save Time and Spring Clean Your Computer
Thank you CleanMyMac X for sponsoring this post. Ranked as the "App of the month" on Product Hunt, CleanMyMac X is an all-in-one package to awesomize your Mac and make it run just like it did on day one. #CleanMyMacX
As a work at home writer and content creator, I spend a lot of time on my computer. I am loyal to Macs, and I find myself longing for an organized workspace. It's hard to organize something that you ALWAYS use though. From a cluttered desktop to way too many files hiding in my folders, I was way overdue for a computer cleanout. Spring cleaning isn't just for your home. Try spring cleaning your computer too!
How to Save Time and Spring Clean Your Computer
CleanMyMac X is a Mac cleaning app that does what it says. Want to make your Mac as good as new? Try this! It's a beautifully styled yet powerful Mac utility. You can clean up, speed up, and PROTECT your Mac with one tool. Since I am a busy work at home mama who constantly uses Mac, using CleanMyMac X was a refreshing change of pace since it was SO fast. My initial smart scan showed over 25 GB of junk that I could remove (mostly files in my trash that I was afraid to permanently delete). Plus, I was able to find new tasks that could help me speed up my computer. Malware? They found that too!
Clean out your trash. For real. I don't know why I was holding on to those files in my recycle bin, but I was. It was time to take out the trash!
Look for unused files and clutter. As mentioned above, they located over twenty GB of junk files. Delete, delete, delete. I have a hard time parting ways with files, but it is necessary to keep your Mac running like new.
Clear off your desktop. I am the worst at saving "important" files to the desktop. They need to be archived or filed away appropriately.
Create a system that helps you find your files easily. While I may hoard files on my desktop, I do have a stellar system for keeping my files organized that I want to share with you! I create folders for every year with the months inside. Anything that I photograph, blog about, or save is archived by month and year. I can usually remember when we took our last family vacation, for example, and so it's a breeze to locate those files by date. At the end of the year, I move everything in one folder and it is sorted by year. Easy peasy!
Set a reminder to edit your files and your system on the first of the month. I set a calendar alert so that I am reminded to make sure new downloads go into a new month's folder (For example, I change to April '19 folder for current downloads now). This helps new files go to the right place, and I can look at the past month's files and only keep what is necessary.
Digital Declutter Tips
Are you ready to organize your computer and rest easy with your Mac?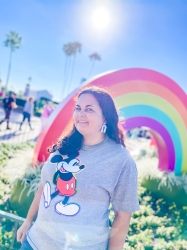 Latest posts by Krystal | Sunny Sweet Days
(see all)