How to Save Money With Publix Baby Club
When you make the decision to expand your family, finances can be a tricky topic. I know that we wanted to have a child, but I never really thought about how much it would cost over time. I knew diapers were not free, but I just never realized what the final cost would be to raise a child would be. Newborns need a lot of stuff! Baby gear, feeding supplies, and utensils, and of course, diapers. When I was pregnant, I learned about the Publix Baby Club. Since I shop there regularly anyway, I knew I had to sign up and see what it was all about.

Publix Baby Club is an excellent resource for new and expectant mothers. Between newsletters sharing developmental milestones and coupons for additional savings, it's a total no-brainer to sign up! Let's take a peek at how to save money with Publix Baby Club!
How to Save Money With Publix Baby Club

Shop sales. I love shopping at Publix because I can count on their weekly sales. I actually have a Google Alert on my calendar for new sale days. I pair those sales with my weekly meal plan, and I look forward to saving money. Besides the BOGOs that they offer, I am particularly interested in what kinds of baby products are on sale for the week. When I notice that there is a significant savings on a product like diapers or baby food, I make sure to stock up. This is how you build up your stockpile of baby supplies at a bargain price.
Use coupons. One perk of the Publix Baby Club is the coupons! Not only does Publix have regular weekly sales and BOGOs, if you're a member of the Publix Baby Club you can receive coupons as well. Some of my favorite coupons have been ones that provided a few dollars of meat products and diapers. It is nice to be rewarded for shopping at your favorite grocery store, and the Publix Baby Club is helpful to our entire family since some of the coupons are for items we all can enjoy.
Buy Publix brand products. You can save a few cents (or even a few bucks!) when you shop the Publix brand. I have always made sure to swap out name brands for Publix brand items. The quality is identical (if not better), and their baby products work well for our family. My son has sensitive skin, but we have never had a problem with their diapers or soap.
Create a diaper stockpile. When I was pregnant, I used Publix Baby Club diaper coupons along with weekly sales to start my stockpile. My one tip? Get a variety of sizes. My son didn't last in newborn diapers very long, and I didn't have too many boxes of the larger sizes. My advice is to encourage your family and friends at your baby shower to gift a variety of sizes. I know I received far too many newborn diapers, and I donated a few boxes.
What Is Publix Baby Club?

With Publix Baby Club, you're covered until your child turns two. It's a free membership that gives you:
Money saving coupons
Free Newsletter (in English or Spanish)
For first time parents, a free copy of Caring For Your Baby and Young Child
Publix Baby Club is open to families in Florida, Georgia, South Carolina, North Carolina, Alabama, and Tennessee.
#ParentLife is much easier with Publix. What's your best money saving baby tip? 
Free Baby Printables
Want to save more? Here is how to save money at Kohl's and how to save money at Bealls!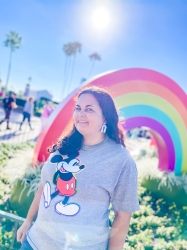 Latest posts by Krystal | Sunny Sweet Days
(see all)