How to Save Money This Summer: What to Buy in June
June doesn't just bring hot temps with it, it also brings hot savings! If you love to shop during the summer months, June is a great time to stock up on essentials at a great price. Below we have compiled a list of what to buy in June, so you can be sure you are stretching your summer dollar as far as you can. Here is what you need to know about what to buy in June!
Spring clothing will start being marked down this month to make way for hot summer styles. The types of spring clothing you can look forward to finding on sale includes:
Rain coats
Rain boots
Spring jackets
Light sweaters and jackets
Spring Easter style dresses
Closed toe spring style shoes
Your summer garden is probably well under way, but you should still keep your eyes peeled for hot garden deals. Live plants will be especially cheap this month, since come July they will be much harder to sell. Now is the time to grab perennials that will come back next year in full force. You also want to watch for deals on:
Annuals
Shrubs
Flowering trees
Perennials
Gardening decor like pots and planters, flags, signs
Garden mulch
Hoses
Patio pavers
Bird feeders
Bird baths
Succulents
Feeling inspired to garden?
Can we talk about produce? Summer salads are a great way to eat right during the summer months. You have all sorts of fresh produce available to you in June at a great price. Remember you can always can or freeze what you don't use right away. Look for sales on produce such as:
Sweet onions
Strawberries
Sweet corn
Peaches
Apricots
Cherries
Blackberries
Watermelon
Tomatoes
Honey Dew
It's not too early to start thinking about The 4th of July and all of the summer picnics you will be having. Stores will offer all sorts of deals on summer eats perfect for your picnics and parties. Look for deals on items such as:
Ice
Charcoal
Coolers
Booze (use this post for ideas on how to save money on craft beer: How to Host a Budget-Friendly Craft Beer Party)
Soda
Juice mixes
Frozen and fresh grilling meats
Marinades
Salad mixes
Salad dressing
Chips and dips
Ice cream and ice cream novelties
Summer is an excellent time to think about your health. After all, you will be in the sun and heat quite a bit. You should be able to find these health and beauty items on sale during the month of June as well:
Sunscreen
Sun tanning lotion
First aid kits
Hydrating beverages
Skin lotions
Anti-chlorine shampoos
Aloe vera gel
Moisturizing hair products
Did you know many dairy brands offer sales during the month of June too? This means you can find your favorite dairy products for less. Look for dairy items such as:
Whipped topping
Ice cream
Sour cream
Yogurt
Cottage cheese
Milk
And while June has all sorts of hot deals, there are some items you should hold off on buying. Here are the items that might go on sale next month at drastically reduced rates. So if you can wait, wait! These items include:
Pool toys
Beach toys
Pool supplies
Patio furniture
Umbrellas
Outdoor Fountains
Outdoor swings and playsets
Swimsuits
Swim towels
Finding clearance items during the month of June may be tricky, but if you are lucky you might score some deals on Memorial Day items such as:
Patriotic party items
Outdoor candles
Patriotic wreaths
Flags
Some types of grills and outdoor cooking gear
Last but not least, let's chat Father's Day! While you won't see as many deals as you would during May for Mother's Day, you can still find deals on items such as:
Cologne
Golf gear
Nuts and snack sets
Razors
Small electronics
Men's shoes and clothing
Men's accessories
Father's Day Bargains
Are you ready to get your June shopping on? Consider these tips on what to buy in June and see what a difference they can make to your summer budget. Chances are you can really stock up on some much needed essentials!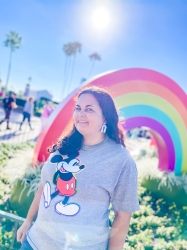 Latest posts by Krystal | Sunny Sweet Days
(see all)