How to Save Money in February
We are back with another month of Put Your Money Where Your Month is, ready to teach you what you should buy in February to stretch those spending dollars! There are all sorts of deals to be had during the month of chocolate and hearts, you just need to know what you are looking for. Look below at how to save money in February, and see how easy it can be to keep a few bucks in your pocket!


Let's talk about President's Day! President's Day brings lots of sales with it, so keep your eyes open for weekend-long events sure to save you some cash. Some items you might find sale prices on this weekend include electronics, televisions, clothing and accessories, and cell phones.
Even though there is a chill in the air, there are still plenty of fresh produce items in season this month. Stocking up on these in-season produce items won't just save you cash, they save you calories too. Here are some of the produce items you can find in February at a great price: pears, potatoes, turnips, oranges, and asparagus.
Did you know that February is also National Canned Food Month? This means finding hot prices on all of your canned good favorites. Here are some of the canned goods you can look forward to stocking up on during the month of February: soup, canned vegetables, canned fruit, sauces, canned pasta meals, canned meat products, stews, and marinades.
You can find cheap canned goods on Amazon even from your favorite brands! I like the 365 Whole Foods brand, and you can find them at a great value.
You might not think much about grilling in February, but the truth is retailers will be getting rid of old models in order to get ready for new spring models! This means finding grills as well as grilling accessories for cheap. Head to your local home improvement store where grill markdowns will be waiting for you. You might also find deals on smokers, charcoal, grilling tools, and grilling cookbooks.
You can't get through February without thinking about Valentine's Day, right? Prices for fresh flowers will INFLATE this month, so stay clear of those. Instead, look for other gift items such as candy, cards, perfume, gift sets, winter gear, home décor, and other items that can be given as Valentine's Day gifts. If you do wish to give flowers, choose a fresh plant. Not only will it cost you less, but it will last all year!
Pro tip: Stock up on half-priced candy on February 15th. I usually pick up a few home decor items from Target's clearance as well since the fun colors of Valentine's Day can be used mostly year-round.
Valentine's Day Ideas:
This will be the final month for winter clearance, as once March hits stores will want those items gone. You can pay as little as 10% of the original price of winter gear items this month, so keep your eyes open for gloves, hats, scarves, sweatpants, coats, faux fur items, even boots, and snowsuits. Buy a size up and save these items for kids to use next year.

With warmer weather coming, retailers will be making room for outdoor gear. This means you might find some hot deals on old models of patio furniture, sporting goods, lawn care items, and other warm-weather essentials. Hop into your local home improvement store and see if last year's goods are up for grabs!
Final Tip: Consider a homemade gift for Valentine's Day in order to stretch your budget. This could mean whipping up a homemade bath bomb, a handwritten love note, or even a tasty meal. Head to Pinterest and find an idea or recipe that works for you. Make something from hand and the heart and it is sure to go over well!


Let's save some money in February! Give these tips for saving money in February a try and see what a great month it can be for deals and savings!
How to Save Money This Year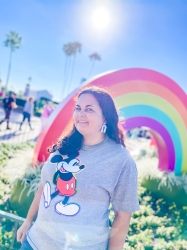 Latest posts by Krystal | Sunny Sweet Days
(see all)