How to Prioritize Your Goals
We can all admit that we may be juggling several different goals at once, and it can be difficult to accomplish ANY of them. Without our undivided attention, we can lose focus. In order to prioritize your goals, you should try these ideas to help you understand just what makes you happy each and every day. There are four main categories that usually feature our goals: family, financial, physical, and personal.
How to Prioritize Your Goals
Family: creating date nights with your spouse, traveling with your family, spending more time with your children
Financial: starting an emergency fund, creating a 401k, getting a raise at work
Physical: Being healthy and more active, walking daily, eating more vegetables
Personal: starting a business, finishing college, reading every month

I seem to have a few different goals in each category, and I wanted to share with you how I prioritize and feel better every day.  Inspired by Orbit gum, a key part of health and wellness is all about seeking balance through mindful consumption. I'll dive into that topic here in this post.
How to Prioritize Your Goals
What worries you most? Are you suffering financially since you need an injection of cash? Financial stress can be a big factor in your overall health and personal development. It can also hold you back from reaching some of your fitness or fun goals. Gym memberships are not free and travel plans require savings. The first goal that you set out to accomplish is something that will make the biggest difference in your life and lower your stress!

What goals can be accomplished quickly and easily? There are some goals that are short term but provide a BIG impact without a lot of work. Taking a daily walk will improve your life immediately and leave you feeling accomplished. When I am feeling flustered or busy, I head outside to walk.
What goals will make you feel better instantly? Snacking all day can make you feel too full or drain your energy if you're snacking on junk.
What goals would make you feel proud? If you have more than three goals, the fourth category should be something that will make you feel good about yourself.
What goals would offer the most permanent result? Another way to prioritize which goal to set out to accomplish next is by choosing a goal that would offer some kind of permanence. For example, getting a college degree is something that you would have forever! Buying a house offers some sort of stability as well.

What goals make you most excited? There has to be a goal that gets you up in the morning! I find myself waking up at 6 AM to work on my side business goal, and I am sure you have something that you are just as passionate about.

When you set out to create a plan of action for your goals, start with these questions. It will help you prioritize what goals should be finished first. Remember, small changes every day can lead to big results over time. Swap snacks for a refreshing piece of gum, and you will feel more confident and ready to make the most of your moment.
Do you work toward your goals every day?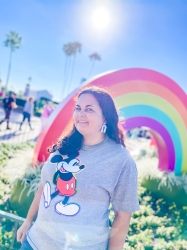 Latest posts by Krystal | Sunny Sweet Days
(see all)