How to Organize Your Photos and Email
Not only do we have to organize our home and our belongings, but we also have to create a system for our digital clutter. It's a never-ending story of email and photos. Save. Delete. Share. You might even edit your emails or photos or manage multiple email accounts and computers with photos on them. When I first started backing up my multimedia, it was as if I finally had it figured out. Until now! As an Amazon Prime member, I was missing out on this AMAZING feature that is included with my membership. Keep reading to learn more about how to use the cloud to get organized and just WHAT you can do every day to feel more organized online.

Let's start with email since it's something that we are constantly connected to. And, for me at least, I store photos in my email. At least, I used to. It just seemed to be a reliable place to keep all my important files and documents. Not anymore!
How to Organize Email
Mark it as spam! If you don't designate which emails are spam, your email will always be overflowing. Start organizing your email by marking what is spam and what's not spam. Make sure to also "white list" important emails that accidentally end up in your spam folder. Surprisingly I get a lot of newsletters that I want to read that end up in my junk folder.
Make folders. Use them. Gmail has a simple system where everything can be set up into folders. You can name the folders and designate which emails go into those folders. Keep this in mind when you are choosing an email provider and how to get it organized. I recommend Gmail exclusively since you can use several extensions with Gmail to streamline your email process.

Use stars! Most email accounts allow you to mark what's important and what's not important or star important messages. Do this as soon as you notice an email is important so that you know which ones need a reply sooner rather than later.
Track email delivery. You can use a tool like GMass which is a Chrome extension to help!
Check your email at designated times. I try to check my email three times a day. I can't get in my inbox without getting lost in emails about blog comments or other tasks. I have to keep a schedule so that I don't waste an afternoon going through email.
Archive. Gmail is awesome since you can search for things. Why not archive everything and when you need it search for it? Simple! If it's over three months old, I say archive it.

DELETE. Hitting the big delete button is a big one. You have to decide which emails you will delete. If it's over a year old, delete! Important emails that contain essential information can be synced to Evernote or use Amazon Cloud Drive for files.
Use an email app. There are email apps out there that will help you organize your email and keep it that way. The question is: which one is the best one out there? I use Mailbox App to help me easily delete and archive things from my phone.
How to Organize Digital Photos
Don't save everything on your phone. I use a smartphone app called Camera+ that doesn't save photos to my phone unless I say so. This helps me save memory too since I'm shooting pictures without saving them to my phone's hard drive.
Create a system with Amazon Cloud Drive. This is crucial! Make sure that you back up all your photos and save storage space. If you are an Amazon Prime member, you already have access to Prime Photos, provided through Amazon Cloud Drive as part of your membership. Amazon Cloud Drive lets customers securely back up and store their existing content collections and automatically upload endless amounts of new content, including photos, videos, movies, music, and files. Amazon Cloud Drive can be accessed via the web on Mac, PC, and tablets. Just go to Amazon.com/clouddrive or Amazon.com/primephotos to get started. The easiest way to get started is using the Amazon Photo app, available on Android and iOS devices, which automatically backs up your camera roll – freeing up valuable space on your device, so you can take more pictures and videos! In addition, the Amazon Photo app allows you to access your photos and personal videos across devices (for example family photos you may have uploaded via the web).

Photos and files can be shared via private links from within the Amazon Photo app or by selecting a folder or file to be shared using the web interface on your computer. If you are an Amazon Prime member, you already have access to Amazon Cloud Drive with Prime Photos, which provides unlimited photo storage as part of your Prime membership. In addition, Prime members get 5 GB of additional storage space for videos, movies, music, and files.
Amazon recently announced two unlimited storage plans, both start with a free 3-month trial:
Unlimited Everything Plan ($59.99 per year—equivalent of less than $5 per month): Store an infinite number of new and existing photos, videos, files, documents, movies, and music in Cloud Drive.
Unlimited Photos Plan ($11.99 per year—equivalent of less than $1 per month): Similar to the Prime member benefit – non Prime members can also store an infinite number of photos in Cloud Drive without worrying about taking up space on phones, cameras, or other devices. This plan also includes 5 GB of additional storage for videos or other documents and files.

Don't Email Photos to Yourself. Keep your email clean and organized and skip sending yourself photo files. Instead, use Amazon Cloud Drive to store your photos that can be accessed via the web, your phone, and your desktop computer. It's a breeze to set up, and it's a simple system to create and use!
What are your best digital organizing tips?
More Digital Organization Tips
Family Planning Tips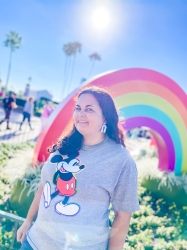 Latest posts by Krystal | Sunny Sweet Days
(see all)