How to Organize (and clean!) Your Child's Toys
I swear my son's toys are multiplying. They're creating a toy army in the middle of the night, determined to take over every square inch of my home…This seems to be a common problem for parents of young children, but I'm a firm believer that our little angels' belongings do not have to rule the roost. It's unrealistic to banish any trace of a child from the house, or think that our homes will look the way they did before our babies came along, but we have to draw the line somewhere.

In my experience, letting the problem pile up only makes things worse. We have to create a habit of cleaning up daily, and set an example so our children can do it themselves as they get older. Kids crave consistency, so creating a chore routine will actually give them a sense of security, I promise.
How to Organize Toys:
Create an evening clean-up routine. In our house, it's usually just before bath time. This might include a song that serves as a cue to let your son or daughter know what time it is. Go straight into cleaning mode, encouraging your little one to bring you items or put toys in bins. Make it fun and quick. Keep in mind, the goal is not to organize, sort and create a Pinterest-worthy room at 7:30 at night. It's to get this junk out of your living room or avoid a middle-of-the-night tripping incident. (If you've got a massive mess on your hands, consider not letting your child start something new until the first toys are put away next time.)
Once you can see the floor, vacuum it. I do this in the morning, before the toys have come back out for the day, because I don't have the energy to do it at night. In doing this one, quick, chore, I feel like my son has a clean surface to play on. It's important to have the RIGHT tools so that you can clean efficiently. I've been testing out quite a few new cleaning gadgets lately, and the Hoover Cordless vacuum is a breeze to use.

Did I mention it was cordless? No cord means you have freedom to move about your home with ease; no plugging and unplugging, no winding and rewinding and most importantly, no tripping, tugging or tangling. You can do multiple products with an interchangeable battery and provide versatility to tackle a variety of messes with just the right tool for the job, whether it's the whole house or picking up a quick mess!

The Windtunnel 3 technology provides performance; suction power to lift and remove dirt. You can use this on carpet or hardwood floors, and it's a lightweight vacuum that is a MUST for your home! In fact, I'm keeping this one on hand in the playroom and dog room area so that we can easily turn it on and clean!
Rotate the toys your child plays with regularly. Even at such a young age, I notice my son getting bored with the toys we generally keep in the living room or the ones at the top of the toy chest. Every so often, pack a few toys away and bring out some that he or she hasn't seen in a while. This also helps keep the down the number of toys you'll have to clean up later.
Donate, swap or sell toys. Unless something has sentimental value or is a favorite of your child's, get rid of toys as he grows! There are at least two holidays a year in which he or she will have several added to the pile, so when something comes in, another thing should go out! You can donate the items that your child has outgrown, you can swap them with other moms, or you can sell them and put the money toward meaningful experiences to have with your child (a music class, a trip to a children's museum or an amusement park, just to name a few) instead of more unnecessary stuff.

Doing these four simple things will help keep your home clean and free of toy clutter. Remember: We own stuff; stuff doesn't own us!
What tips for keeping toy clutter at bay would you add to the list? Planning to buy toys for a new mom? Use this list: Things You Need and Things you DON'T for your Baby Registry.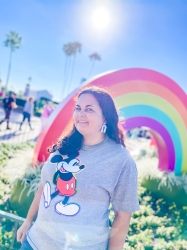 Latest posts by Krystal | Sunny Sweet Days
(see all)