How to Organize Paper Clutter
When you look at your house do you see paper clutter everywhere? Paper clutter can build up quickly, so it's important to have an organizational plan in place. One way that I organize paper clutter is with…more paper! I use printables that help me get organized along with labels and stickers to affix onto my planner or other items to color code important documents. Keep reading for more tips to help you get organized!
How to Organize Your Paper Clutter
Throw away junk immediately. Some people hold onto junk mail and papers "just in case." However, if you want to get organized, you must throw them away immediately. Also note dates on your paperwork. If something is REALLY old, it's time to toss it!
Keep paper clutter off the counter. Paper clutter most often builds up on the counters of homes and desks. Keep the clutter off the counter!
Have designated spots for bills. Bills often get lost in the hustle and bustle of paperwork, so it's important to designate a particular spot for your bills. This will help them stay organized and get paid on time.
Recycle what you can. Instead of throwing the junk paperwork away, you should recycle what you can.
Use file folders. Get a cheap file folder system and organize your paper clutter that way.
Shred important paperwork you need to get rid of. As you are organizing your paper clutter, be careful not to throw important paperwork into the trash. You'll want to shred that paperwork to prevent someone else from stealing your personal information and committing identity theft.
Get rid of paper billing. If you really cannot get your paper clutter under control, it's time to eliminate some of it. One of the first steps to doing that is getting rid of paper billing. Most companies have an option now where you can get electronic bills sent to your email. You can also opt out of catalogs and other mailings by calling an 800 number or entering your address into a database online. Google can help you with that one!
Organize the paper clutter at least once a week. It's no doubt that paper clutter happens to the best of us, but to eliminate this, take time to organize your paper clutter at least once a week! If you find time to do it at least once a week, you will prevent the papers from stacking up.
Don't procrastinate! There's probably a reason there is paper clutter in your home. The reason may be due to procrastination. Don't wait to do the jobs of paying bills and etc. Complete these tasks as soon as you can and then you'll be able to get rid of the paper sooner.
Note what's been completed. Make a checklist of what has been completed and this will help you organize your paper clutter as well. Mark when a bill is due on the calendar, pay it, and then get rid of the bill or file it away for your records.
What do you print to help you get organized? What's your best decluttering tip? If you feel overwhelmed, try these tips to learn How to Organize Your Business and Life and Organize Your Calendar: Free Blog Planner.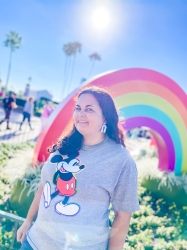 Latest posts by Krystal | Sunny Sweet Days
(see all)