How To Make The Most Out Of Your Trip To Florida
If you're planning a trip to the Sunshine State, you're in for a treat! Florida is home to world-famous theme parks, beautiful beaches, and plenty of other attractions. Whether you're a first-time visitor or a longtime resident, there's always something new to explore in Florida. This blog post will give you some tips on how to make the most out of your trip to Florida.
1. Research the best times to visit
Florida is a popular destination year-round, but the busiest times are usually during the winter and spring months. If you're looking to avoid crowds, consider visiting during the summer or fall. You'll find that the weather is still beautiful and there are plenty of activities to keep you busy. When you're planning your trip, be sure to check out the events calendar for Florida. There are always festivals and other events happening around the state. You can find things to do in Florida no matter what time of year you visit. Also, keep in mind that some attractions are only open seasonally. For example, many theme parks close during the summer months.
2. Decide what you want to see and do
There's so much to see and do in Florida, it can be overwhelming to try to fit everything into one trip. That's why it's important to decide what your priorities are before you start planning. Are you most interested in visiting the theme parks? Or would you prefer to spend time relaxing on the beach? Maybe you're looking for a mix of both?
Once you know what your priorities are, you can start planning your itinerary around those activities. If theme parks are at the top of your list, Orlando is the perfect place to visit. The city is home to Walt Disney World, Universal Studios, and SeaWorld, just to name a few. You could easily spend your entire trip in Orlando and not get bored. But if you're looking for a more relaxed vacation, the Florida Keys are a great option.
3. Make a budget and stick to it
A trip to Florida can be expensive, especially if you're planning to visit theme parks. That's why it's important to make a budget before you start booking your travel plans. Decide how much money you're willing to spend on your trip and then stick to that number. There are plenty of ways to save money while you're in Florida. For example, many hotels offer free shuttle services to and from theme parks. You can also take advantage of discounts for Florida residents. If you're flexible with your travel dates, you may be able to find cheaper flights and accommodations. No matter what your budget is, there's a way to make your dream vacation a reality.
As we saw, Florida is a state with many hidden wonders, world-famous theme parks, and beautiful beaches. With the right amount of planning, your trip to Florida can be an unforgettable experience. Be sure to keep these tips in mind when you're planning your next adventure to the Sunshine State! Thanks for reading!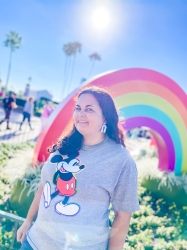 Latest posts by Krystal | Sunny Sweet Days
(see all)