How to Make Plans for the Future
This is a sponsored conversation written by me on behalf of Seattle's Best Coffee®. The opinions and text are all mine.
Ready for early mornings and homework? Ouch! I don't want to remind you that the back-to-school season is here, but oh is it. We actually head back in two weeks which seems unusually early, but it is just the way our school calendar works. With all of the craziness, I do my best to set specific personal goals during back-to-school time, it helps me stay sane! I wanted to share with you my tips and tricks.
Let's start with my staple, Seattle's Best Coffee®. It helps me stay on track and makes the early mornings feel much better! I discovered Seattle's Best Coffee® 6th Avenue Bistro Dark Roast flavor. It is new to me, but I found it at Publix.
Seattle's Best Coffee Savings
Get ready to save when you shop! Score $1.50 off Any Two (2) Seattle's Best Coffee® coffee 12 oz. or K-Cup® 10 ct. Look for it in the coffee aisle!
Check out the deal HERE.
What is Seattle's Best Coffee?
Seattle's Best Coffee has an uncomplicated consistency and is a reliable flavor. Staying on track for me starts with routine, which is why I love Seattle's Best Coffee. I always make sure to stock up at Publix, so make sure you check out all the deals!
Seattle's Best will make you feel differently about coffee during the back-to-school season since it offers a smooth flavor that is perfect for early mornings. There are a few enjoyable flavors that you can try!
The 6th Avenue Bistro flavor is a Dark Roast that I enjoy, but there are other varieties including Post Alley and a Breakfast Blend too. Whatever roast you would like – you can find at Publix!
To inspire you this back-to-school season, I wanted to share a few tips to help you plan your future. Whether that's the academic school year, your next project, or the next ten years, I hope these tips inspire you to pour a cup of coffee and get planning. While I'll be drinking a 6th Avenue Bistro, I want to hear from you on your favorite coffee roast from Seattle's Best Coffee. Do you like a light roast or a dark roast like me?
Make Plans for the Future
When you think about becoming happier in your normal life, what do you think about? Chances are, you think about what you can change. Not necessarily what to change about yourself, though that is definitely part of it, but what you can change in your life.
Journaling is a wonderful tool for this, because not only are you learning more about yourself and how to make positive changes and work on a more positive mindset for happiness, but you can also identify and achieve your goals.
Personal and Work Goals: This is an easy place to start in your journal since you probably already have an idea of some of your goals. However, journaling every day can help you really delve into this and find new goals you didn't even know you had.
Don't put too much pressure on yourself here, just write in your journal daily, and you will most likely have a long list of things you would love to accomplish.
How to Start with Your Goals: If you are having trouble knowing where to start, just start small. Think of what your current goals are. You can mix and match personal and professional, or just do one category at a time.
Do you want to go back to college?
Are you looking to advance your career?
Is there something in your personal life you want to achieve?
Looking to start a business?
List any and all goals you currently have on your mind, no matter how big or small they seem. Remember they might seem inconsequential, but even goals like completing a home renovation project or calling a long-lost friend are things to strive for. Once you have listed your current goals, you already have a better picture of who you are and what types of aspirations you have in life. As you begin your journaling every day, you will start to add to this list, and possibly even modify other goals you thought were important, but are now overshadowed by something more important in your life.
Set a 5 or 10-Year Plan: Now for the fun stuff, long-term goals! While short-term goals are great, don't forget about things you want more in the distant future. Creating a 5 or 10-year plan lays out everything for you. You begin by setting the main goal, which is what you want to accomplish in a certain amount of time.
Write down your goal, what it would take to achieve, and always have realistic expectations about it. Wanting to be a millionaire in 10 years is a lofty goal, so try to be a bit more realistic given the time period you have for whatever goal it is, going step by step with choices to make to achieve it.
Every time you take a step toward that 5 or 10-year plan, write it down in your journal. This not only helps you with mindfulness and keeping on track, but you can look back at your older journal entries and remember your progress.
Seattle's Best Coffee and the Seattle's Best Coffee logo are registered trademarks of Seattle's Best Coffee LLC used under license by Nestle. Keurig, Keurig Hot, K-Cup and the K logo are trademarks of Keurig Green Mountain, Inc., used with permission.
Seattle's Best Coffee and the Seattle's Best Coffee logo are trademarks of Seattle's Best Coffee LLC used under license by Nestlé.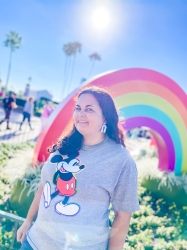 Latest posts by Krystal | Sunny Sweet Days
(see all)