How to improve your homes property value
Ready to sell your home? You're in luck! There's never been a better time to sell with house prices continuing to rise despite the economic turmoil in the UK. This means there's a high chance you'll be making some major profit on your property but what if there was a way of improving your property value even further? Fortunately, there's plenty.
Whether you're selling your home to fund a move to a bigger property or you're looking to get more money into your bank accounts during the cost of living crisis that we're all currently navigating through, selling your home is a wise decision.
To ensure you get the most out of your sale, you'll need to increase your home's property value. Not sure how to do that? This article is for you. Read on to find out the many ways you can increase the value of your property.
Kerb appeal
First impressions count. That's why you must make sure the exterior of your home presents a clean and positive image to get potential buyers interested in your property. To do this, we recommend adding a new lick of paint to surfaces like front doors or garage doors, having your windows professionally cleaned and clearing off any moss on your bricks with a power washer.
Design style
Just like there are design choices that will put buyers off your property, there are those that will entice and even get them to offer more for your home. According to research performed by fitted furniture specialists Hammonds, roughly 40% of Brits say finding a property that is decorated in a way they like is an important factor when house-hunting, with 46% of men deeming it a top priority compared to just 36% of women.
We recommend taking a minimalist approach to your house design, with Hammonds research revealing that Brits would offer up to £5,000 above the asking price for a home with this style and 18–24-year-olds offering up to £10,000 more! Comparatively, having a maximalist style could harm your property's value, with 32% of people offering below the asking price for homes with this style.
Staging
Whilst it's important to keep aspects that show your home has been cared for and lived in, buyers want to be able to see themselves in the house so try to minimise 'clutter' and only keep a few pieces of personal memorabilia out on display. With less on display, your home will also appear larger which will drive the value up too.
Place your personal items in boxes and store them in the loft or storage whilst you're showing people around your house. This will also help to get you ahead on packing items up when you move out.
Convert cellar or garage
Having additional storage or living space can be a huge bonus to buyers as it can often be the make or break between whether a home can fit their family or not. Converting your cellar or garage into a room that can be used for living areas will naturally increase the value of the home as well as increase your chances of a fast sale.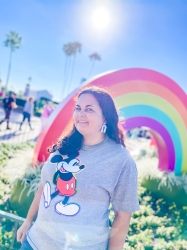 Latest posts by Krystal | Sunny Sweet Days
(see all)