How To Have The Best Summer Ever
After the last couple of years, we've all missed out on a lot, from vacations to celebrating special occasions with our loved ones. For children, the pandemic has been incredibly challenging, thanks to all the things they've had to give up, from a normal school experience to seeing their grandparents. To reward them for their resilience, and to shake off some of your own stress, you probably want to make summer 2022 the best summer ever. Here's how to do that.
Get Outdoors
Spending time together outdoors is a wonderful way to make some special family memories, at the same time as getting active and getting some fresh air.
There are hundreds of ways to make the most of the great outdoors this summer, depending on your time, budget, and what you enjoy doing. Play games in the garden or encourage the kids to get involved with the gardening. Visit the local park. Go roller skating or out for bike rides. Plan family walks.
If you're lucky enough to live near the beach, or have a vacation planned, you can play beach games, build sandcastles or swim. Why not go wild and book family surf lessons?
Whatever you decide to do, getting outside is a great way to make summer even better.
Go On A Trip
A lot of us haven't had a proper vacation in quite a while, and are missing the chance to travel.
This summer, plan some trips in. You could plan a longer vacation abroad or to another state for your main vacation. If you haven't got the budget for a big trip, you could take a few smaller trips. A weekend away somewhere new, whether a city break or a beach weekend, can be just as refreshing as fun as a full vacation.
If you have family or friends who live a long way away that you haven't been able to see for a while, a lovely way to get your trip in could be planning a family road trip to go and visit all those people that you've been missing. You get to be reunited with people you love, explore more of the country, and maybe save money, if you can stay with them instead of booking hotels.
Complete A Challenge
Have some more adventures this summer by setting some family challenges. This could be a one-off event, like taking part in a charity walk or setting up a family Olympics in the garden, or it could be a summer-long project, such as trying to visit a certain number of new places or reading a certain number of books.
Get everyone in the family to suggest ideas, and take a vote on what you'd like to do. Achieving something together will make everyone feel proud and make you feel closer together, whether you've planted a vegetable garden, or been to every museum in town.
Treat Yourself
The last couple of years have been incredibly stressful for everyone, and we've all earned a treat. Of course, keeping the family healthy is still important, so an all ice-cream diet might be too far, but some treats are a great way to make summer feel special.
This treat could be something new for the garden for you all to enjoy outdoors, such as a new barbecue or some play equipment. It could be outdoor toys, like bikes, rollerskates, or sports equipment that you can all use together. It could be a trip. It could be something small and affordable, like a trip to the local ice cream parlor for an over-the-top ice cream.
Like the challenge, get everyone to suggest their ideas, and decide together what would be the most fun and would make you all feel special and cheered up after the sacrifices made during Covid.
Be Adventerous
One of the advantages of summer is the children being off school, so you all have more time than usual to spend together. All this extra time makes summer the ideal time to have some adventures. Adventures are an ideal way to make incredible memories that you can all treasure forever, get outdoors, and nudge your children out of their comfort zone a little bit.
There are lots of ways for your family to get adventurous. You could take a trip to somewhere new, and spend a weekend exploring what a new town has to offer. You could try something active, depending on the age of your children, like kayaking, climbing, snorkeling, or even just cycling a local bike trail.
Choose something that your children can join in with, and use it as a fun way to explore, get outside, and spend time together. Completely an adventure can boost your children's confidence too.
Do Something New
Is there something that you've always wanted to do, but have somehow never found the time for? Is there something that your children have been asking to do?
Find something that none of you have ever done, but would like to do, and plan something brand new to try. You might find a new hobby, or you might just have an adventure. Doing something new together is great, as your children can see you having to learn something, and you all get a wonderful memory and a confidence boost from being willing to try something you aren't familiar with.
Perhaps your kids have been asking to try horse-riding, or you've always wanted to take a special train journey. Take ideas from the whole family and choose a few activities together to try.
Spend Time Together
Your whole summer doesn't have to be all about wild adventures and travel. Sometimes, all you need to make wonderful memories and have the best summer ever is to spend time together.
Make the most of the children's time off school and enjoy their company. Children grow up fast, and they will be very different people by next summer, so take the time to enjoy them as they are now. If you can, take some time off work so you have some free time for family time.
If the weather is good, you can hang out together in your local area outside, such as going for walks or bike rides, playing in the local park, going for picnics, or using local facilities like basketball courts. Visit the local pool together, or check out local attractions like museums. Spend the summer exploring your local area. There might be some great things to do and see that you didn't know about or some attractions that you've been meaning to visit but you've never quite got round to.
You can also spend time together at home. Get out in the garden for games, or garden projects like giving the children their own space in the garden to grow things. Inside, you could have family dinners, plan movie nights, or bake together. There are lots of fun things to do, whatever the weather, this summer.
Have A Party
If you've been missing social time with your extended family or your friends, you could throw a party to celebrate all being able to be together again. If you have the space, you could have this party at home or in the garden. You could hire a local venue, or arrange to meet somewhere like a local park. Some people are still taking a lot of covid precautions, so an outdoor venue might make people feel safer.
Whatever you choose, make sure that everyone in the family gets to invite someone. Invite your other family members, like your children's cousins and grandparents. Invite a mix of your friends and theirs, so everyone gets to see people they've been missing.
For catering, you could have a barbecue, or ask everyone to bring a dish as a potluck party. These are both fun options, that don't have to break the bank. Plan some drinks, including some non-alcoholic options.
Some party activities are a good idea, especially if you will have kids there who will need entertaining. This is another good reason to choose an outdoor venue, as the children will be able to run around and play together without worrying about noise, getting in the way, or knocking anything over. You could also plan some party games, such as putting out some lawn games or arranging classic party games for the little ones. If you have the budget, you could even hire a bouncy castle to make the party even more amazing.
Many of us are hoping that 2022 will be a better year after we've all had to miss out on so much. If you have found that your priorities have changed recently, you're not alone. A lot of people want to make this year extra special, and the summer is an ideal time to make incredible memories and enjoy spending time with your kids. Whatever you decide to do, whether it's an epic road trip to visit loved ones or just playing soccer in the garden, make this summer special.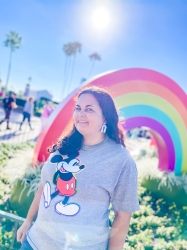 Latest posts by Krystal | Sunny Sweet Days
(see all)