This post contains affiliate links. All opinions are my own.
I had never had a scone until I discovered Seven Sisters Scones. I had NO idea what I was missing. Get to know Seven Sisters Scones and learn more about how to order your own batch. With a variety of flavors, there's so many ways to serve them. Keep reading for a history lesson on where scones came from in case you're like me and were unsure!
Outlets like Seven Sisters Scones offer scones chock-full of bacon, cheddar, and chives or banana and chocolate chips. From Chocolate Kahula to Cotton Candy. Blueberries, cinnamon, cranberry, orange, figs, goat cheese, garlic, lemon, jalapeno, green olive, cheddar cheese, honey, pina colada, strawberry, champagne, sweet potato and on and on and on. Seven Sisters Scones offer 21 different flavor combinations that cover a wide spectrum of just about any taste. You can order a sampler pack or even add on brownies (which is what I absolutely did).
Save 10% with code SISTER.

Scone Sampler: Box of Six Scones
There are vegan and gluten-free scones options and large and mini scones at Seven Sisters.
What are scones?
Scones have come a very long way since their 1500s introduction as a simple, cake-sized, oats-heavy Scottish bread cooked on griddles or open flames and carved into manageable triangles. In fact, scones have absolutely invaded the United States since the inception of Starbucks and other high-end, extremely popular coffee shops. Today, we find scones on restaurant menus and in bakeries and coffee shops from Rhode Island to California and Washington state to Florida.
Did you know?! It shocked me to see that the annual growth consumption rate of scones is a whopping 30.26 percent in America, according to Tastewise.
The origin of the name scone is uncertain, but some link it to the Stone (Scone) of Destiny, where Kings of Scotland were crowned. Others point to the Dutch term schoonbrood–schoon for "clean" and "brood" for bread–or even to Germany, where schonbrot means "fine or beautiful bread."
How to pronounce scone is even murkier. Some call them "scons," while most call them "scones." Either is accepted, although "scons" seems to be the more traditional nod. No matter the origin of the scones term or the proper way to pronounce them (in the USA it's "sconEs"), scones are a big hit in America.
What is a modern-day scone?
Today's scones are usually considered more of a pastry than a bread even though the English versions can be decidedly lackluster. Besides the dessert connotation, scones don't include yeast liked their loafed counterparts that are used to bookend sandwiches. Not much kneading is, well, needed, and overdoing that can make scones fall flat. The ingredients for scones need to be cooled when mixed to provide perfect adherence.
Scones typically are made of wheat, flour, and/or oatmeal with baking power serving as the leavening agent. Scones then are baked on cookie sheets. Scones are sweetened and sometimes adorned with an egg wash that bakes in a bit more flavor and adds color. The baking powder changed the scones game, and since its inception, scones are almost always oven-baked.
Some scones closely resemble biscuits. However, I sampled SEVERAl scones from Seven Sisters Scones and discovered a wide variety of flavors and textures.
Differences from Here to There
In England, where scones are extremely popular, especially with the 4 p.m. Afternoon Tea sessions, they are traditionally served as a dessert pastry even though Americans often describe those versions derisively as baking powder biscuits. There's not a lot to English scones. No filling. No glitz. No glamor.
Here in America, we used to most often consume scones as biscuits or rolls as the bread complement to meals. There are even American buttermilk scones versions. Americans usually bake in loads of butter while the Brits prefer to slather their butter on scones when going that route.
Brits view scones as a fluffy platform for jams of all varieties and/or clotted cream. Mostly, they are plain and shoulder-shrugging sidekicks to tea. But the toppings help.
Looking for a gift idea? Pair these fresh scones with team or any of their other gift packages. So much variety, you can find flavors for anyone.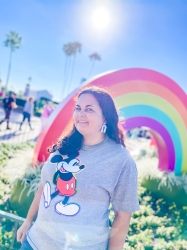 Latest posts by Krystal | Sunny Sweet Days
(see all)