How To Cut Household Expenses And Save For What You REALLY Want
There are always goals that we have in life – whether it's to travel and see the world, get that perfect family home or set our kids education up – but all of these aspirations take one thing – money. And in order to turn these dreams into reality, often we need to reassess what we can do with our finances. it's very easy to spend money needlessly on household expenses, and costs can mount up before you realize it. Taking a long, hard look at what you're really spending sounds scary, but soon you'll identify some easy savings that you can make, and once you start, the feeling of paying less and having extra money to put aside gets quite addictive. Creating a budget that works, that you can stick to, and where you aren't wasting money on things you don't need – so that you can work towards those that you do need – is simpler than it may seem. Get started with a few of the tips below, and you'll soon find plenty of new ways to make savings.
Cut Down On Your Phone Bill. Our phones are the devices which control a huge amount of our lives these days – from ordering our shopping online and doing our banking via an app to documenting our family lives – and often we want the latest model. But that doesn't mean you should overpay for your phone plan. If you've been staying with the same provider, it's likely that they aren't giving you the best deal. Looking at something like https://smarty.co.uk/sim-only instead of taking the automatic upgrade and paying over the odds could really make big savings. You should also look at what you actually use your phone for – if you place international calls to relatives, could you use Skype instead? Instead of texting could you just use WhatsApp with WiFi?
Get Creative With Your Food Bill. Food is one of the major household expenses most of us have, so finding ways to cut down on the cost of food is a big win. The average person wastes 40% of what they buy, so you could be literally throwing money away. Avoid these by using a meal planner to work out what you're going to be eating in advance. Get familiar with your freezer as well – freezing leftovers from dinner and using them as lunch the following week is a great idea. Most things freeze very well, including items like bread. Switching to store brand alternatives can also represent a massive cost saving – in a lot of cases the cheaper item will even have been made in the same factory, so you are literally just paying for packaging. The one exception to this is meat, where you should always buy the best you can afford, preferably organic. Stop it being too costly by committing to some meat-free days each week. The vegetarian alternative is usually purse and diet friendly. If there are certain staples that you always buy, consider shopping them in bulk for extra cost savings on things which don't go out of date quickly – canned goods, pasta and rice, or non-perishable items like toilet paper. Equally, if you're an Amazon Prime member, on many items they now offer a Subscribe and Save option, where you can access a lower price by placing a recurring order. You can also learn a lot about meal prep, batch cooking dishes in advance which means you can have a healthy, delicious home-cooked meal out of the freezer at any time and can, therefore, avoid costly and bad-for-your-waistline ready meals and takeaways.
Seek Out Your Subscriptions – And Cancel Them. It seems like everything these days is a subscription service. We sign up for things, forgetting all about them, and yet the direct debits keep on coming out of our accounts. There are services you can sign up, for now, that comb your account for subscriptions and automatically unsubscribe you. Carefully analyze what you're actually using, and be honest with yourself! Are all those cooking magazines just piling up in the corner unread? Do you have great intentions with your gym membership just to realize that you've only made a couple of classes this month? In cases like that, you may well be far better off paying as you go or just accepting that you don't need that sign-up. You may have to give some notice, but canceling is a healthy step towards reaching your savings goals.
In just a few steps, you've started the road to a full makeover of your home finances. And once the ball is rolling, it's much easier to become savvy about cutting out unnecessary costs and get much closer to your dreams!
Summer Budgeting Tips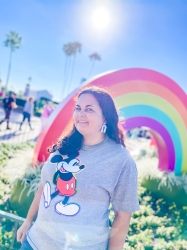 Latest posts by Krystal | Sunny Sweet Days
(see all)