How to Create Your Own Skincare Routine
Your skin is the biggest organ of your body and the most susceptible to various elements. Your face, in particular, is prone to bacteria, dust, pollution, and sun damage that cause acne breakouts, aging, and uneven skin tone. Aside from external factors, there are also internal considerations like diet, water intake, and stress levels that could affect your skin quality.
Regardless of how careful you are or how little time you spend outside, your face is prone to damage and skin aging. That's because your natural oils, collagen, and hydration levels lessen as you grow older. Eventually, with little or no care, your skin will deteriorate. You can prevent that from happening by making a skincare habit.
Aside from doing a routine, you should also consider the kind of products you use. The Face Shop products are great for those that are just starting out. If you're interested in checking them out, click here.
Here are the necessary steps and how you can customize them according to your skin needs:
Cleanse: At the beginning of your routine, you have to ensure that your face is entirely clean. This step is critical because skipping the cleansing action risks trapping bacteria and dust into your pores. If you're starting, you can wash your face with a mild foaming cleanser. For a more thorough clean, you can do the famous double-cleansing method.
To do the double cleanse, you have to use two types of cleansers. The first type is the oil-based products that come in the form of makeup removers, oil cleansers, or cleansing balms. Use the oil-based cleanser to remove makeup and sebum from your face.
The second type is the water-based products that you can find in the form of foaming cleansers and water cleansers. Use the water-based cleanser to clean off what's left.
There is one more method that you can try for cleansing your face. For that, you need to turn natural soap into foam and gently cleanse your skin. Natural soaps have a very varied line, so you can find the best fit for your skin type. Those products are hypoallergenic and do not cause any skin irritations and prevent skin microbiome from environmental pollutants. Some natural soap can be used for all types of skins. For instance, pure goat milk soap can be used for not only oily skin but also for dry skin. These contain lactic acid which removes all dirt and excess oils and keeps the skin microbiome healthy. Despite that, goat milk soaps keep skin moisturized and hydrated all day.
Tone: After you make sure that you have thoroughly cleaned your face, you need to make sure that your skin's acids won't interfere with your treatment because most of these products already contain chemicals and acids. For this purpose, you can apply a mild toner to balance the pH level on your skin. Apply your toner with cotton so that you can clean out the remaining dirt.
Exfoliate: If you're a heavy makeup user, you should aim to exfoliate your face at most twice a week. You can use scrubs, exfoliating masks, and creams. Don't overdo your exfoliation, or else you might end up damaging your face. When you dry your face with a towel, you should pat instead of rub.
Treat: You do the treatment part of the routine according to your skin's needs. This part takes a little bit of research and mastery because there are a lot of products involved. You need to know your skin's condition and issues before you attempt to buy any treatment for your routine.
Here are some of the products you can use for treatments:
Anti-acne serums
Anti-aging serums
Ampoules
Vitamin drops
Emulsion
If you're trying to figure out the order of application, go from the thinnest to the thickest product.
Nourish: In the nourishment step, you can apply a sheet mask to lock-in the serums. Leave the sheet on your face from 15 to 30 minutes, depending on the product instructions. After removing the sheet mask, pat the essence into the pores.
Next, you can apply the eye and lip creams. These will help nourish the parts that the serums and essences can't reach.
Moisturize: After everything, seal the routine with a hydrating moisturizer. The moisturizer will help lock in the treatments and essences that you previously applied. If you're in a tropical country, make sure that your moisturizer is lightweight, or else you will end up sweating it off.
Protect: Ultimately, you want to protect your skin from damage. For day time, use a sunscreen with SPF to help shield your face from harmful UV rays. For night time, you can use a sleeping mask to enhance the regenerative and healing while you sleep.
Your skincare habits will affect how your skin will look in a few weeks or months. You need to be consistent in applying your products, and you also have to couple your routine with proper diet and exercise. If you still don't see any results even with consistent use, you might be using products for a different skin type.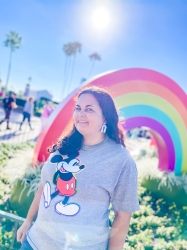 Latest posts by Krystal | Sunny Sweet Days
(see all)