How to BOO Your Neighbors: BOO Printable
This post has been sponsored by Ferrara. All thoughts and opinions are my own.
Are you ready to celebrate the best that October 31st has to offer?! Halloween has long been my favorite holiday, and it has nothing to do with trick-or-treating! I love being able to craft creative costumes and share family traditions year after year. Though, the sweets ARE a highlight! Every year, we try to surprise our friends and family with a Halloween party or a special dessert, and now, we celebrate our neighbors with a BOO basket with Butterfinger®, Crunch®, 100 Grand® and Baby Ruth® candy from Walgreens!
Psst… save now when you buy at Walgreens!
Have you ever been BOOed? If you have never been BOOed before or surprised someone with a BOO basket, this is going to be so much fun! Giving is more fun than receiving, and I have just the thing you need to make your neighborly gift the best ever this year!
What is a Boo Basket?
First, you need to create a simple Halloween themed basket to delight your neighbors. Ideally, you would fill this with treats (no tricks!). For my basket, I used Halloween home decor items and CANDY! Butterfinger® is a family favorite and a classic that everyone loves, so we included a bag of fun size treats inside!
We love Butterfinger® for its unique peanut buttery flavor PLUS it has that crispety crunchety® texture that is awesome in a recipe or in your trick-or-treat bag! And, as always, there are no artificial flavors or colors.
Want to include other candy? Here are my top picks!
Halloween Candy Coupon
Get ready to save now at Walgreens on all your favorite Butterfinger®, Baby Ruth®, Crunch®, or 100 Grand® treats! Mix and match your boo baskets with any of these candies!
The pumpkin votive is a nice touch and can help your gift recipient display their treats inside their home.
The plastic bucket was an awesome find since it was big enough to hold candy treats and more! I used spider webbing for padding instead of tissue paper or other fillers.
How do you Boo Your Neighbors?
To "boo" your neighbors, you surprise them by leaving a boo basket at their door! Get started with this printable card that I designed to attach to your basket!
Boo Your Neighbors Printable
Butterfinger®, Crunch®, Baby Ruth® and 100 Grand® are options for versatile Halloween candy to stock up on since you can bake with it and share it with friends. Walgreens can help you grab everything you need, and their seasonal sales are always amazing.
Halloween Recipes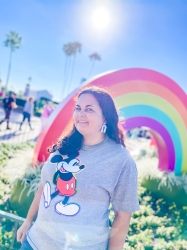 Latest posts by Krystal | Sunny Sweet Days
(see all)