Home Buying Checklist: Everything You Need to Get Started
This post was sponsored, and paid for, by SunTrust Mortgage. All opinions are my own.
When we started the home-buying process, we had a very basic list of absolute needs when it came to a living situation. It needed at least three bedrooms — a master, a kids room and what would be used as a home office— and a fenced backyard for the dogs. Everything else was negotiable. So as we searched, we found ourselves looking at different variables and we assign values to each of those variables. Each value was also given a certain weight based on its importance. For example,
commute
time to a job was more important than having a
pool
. Inspired by
SunTrust Mortgage
, we were able to find just what we needed! I hope this helps you choose your own home and that you can use this home buying brainstorming worksheet as a starting place for your next home.
Here were our main five variables we looked at while shopping for a new home:
The potential for resale: This was the big one because we were likely going to have to dip into our 401K in order to come up with a down payment. Of course this should be avoided in most cases but some plans allow for a withdrawal to be used toward a home with reduced penalties incurred. In doing so, however, you have to look at the home as an investment for the future that is ultimately taking the place of that 401K money. The money gained from the eventual sale of the house should meet or exceed the money that would have been made off that initial amount had it been left untouched in the retirement account.
Location: Long driving commutes weren't necessarily a deal breaker since both of our jobs were quite far away from each other. One of us was going to have a slightly longer drive time unless we managed to perfectly split the difference. What was more important was the location in regards to major roads. A 20+ mile commute is much more bearable when it is on a highway instead of city streets.
Schools: Now that we have a school-aged kid this became something we were very concerned with. For example, not every school offers a gifted student program. Some offer art and music as part of the curriculum. Doing some research online will help find the best school available.
Repairs needed: This is where the balancing started coming into play. A house that needs some work will ultimately provide a chance to make more money on the eventual resale. A house that was completely renovated or upgraded, while meaning there will be less labor involved, won't provide a big return on investment during resale.
Amenities: Houses that had something unique about them, such as a waterfront or a pool, were given more weight than what might have been a bigger or newer house in a suburb development. Ultimately, you are going to have to live in this house for an extended period so it needs to have something going for it that sets it apart from every other house on the street.
Finding a hidden gem. Define your must-haves. Finding a home that meets your needs is important. Everyone has a must-haves list. First, share what was on your list. Now, did you stick to it? Did your list include finding a hidden gem? Sometimes we have to stray from our "lists" because the potential in a home is so great. While this certainly requires a leap of faith, for the planful buyer out there, share your tips for discovering the hidden value in a home.
Need more help? Look to SunTrust Mortgage where you can learn more about the entire home buying process. Learn the ins and outs of what is expected and prepare yourself! Stay confident and write it out. Use this printable PDF to help you determine just what your NEEDS are versus your WANTS. Jot everything down with your spouse, roommate, family member, or yourself. Stay focused. You got this!
At SunTrust Mortgage, we make it a priority to learn all about your unique circumstances. Confidence starts with a conversation.
Talk with a SunTrust Mortgage expert today.
This post was sponsored, and paid for, by SunTrust Mortgage. All opinions are my own.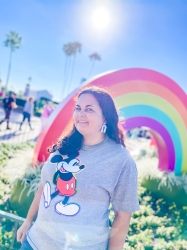 Latest posts by Krystal | Sunny Sweet Days
(see all)