6 Last Minute Holiday Cleaning Tips
Holidays always cause a bit of stress, and for many of us that includes the frustration of trying to get our home in order. These six last-minute holiday cleaning tricks are sure to help you manage to get your house in order before the guests arrive. Nobody has time to do a deep clean at the last minute, so these tips will help you feel confident in having guests over without the stress.

Under Bed Storage: There are always a few things you just need to shove in a corner to hide. Grab some tubs and use under bed storage to hide the junk out of sight and out of mind during the holidays.
Lemon Essential Oils: There is something to be said about cleaning your bathrooms with lemon scented cleansers. Even if things aren't perfectly dusted, wiped and scrubbed a bit of lemon essential oil dropped inside the toilet paper roll will give the bathroom that nice fresh scent at all times.
Socks For Dusting: Grab your old socks, or the ones without mates and put on your Swiffer or the end of your broom for a quick wipe down of baseboards, walls and ceiling fans. Spray with a bit of all-purpose cleaner to add a bit of shine as needed.
Remove The Clutter: Things like magazines and books can be neatly stacked on end tables or shelves, but clutter like your knitting projects, kids toys, and various odds and ends should be picked up and removed. Hide in the back closet, basement or your bedroom until after guests leave.
Dim The Lights: Sometimes you just don't have enough time to do everything you want. When that happens, light the candles, turn the lamps on and dim the lights. A soft winter glow instead of bright lighting can hide tons of flaws like dust, clutter and even a stain in the carpet.
These last-minute holiday cleaning tricks are all about getting the basics done while hiding the things you didn't have time to finish. A few swipes of cloth to get rid of dirt, some fresh smells in the house and removing a bit of clutter can really perk up the house and make everything look better.
What's your best holiday hosting and cleaning tip?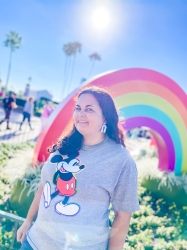 Latest posts by Krystal | Sunny Sweet Days
(see all)