Healthy Vegan Recipes For An Amazing Summer Body
If you want to have an amazing summer body, then veganism is the way to go. You may be thinking that veganism is about eating food without animal products, but it's actually so much more than that. Veganism has been proven time and time again to be one of the best diets for weight loss. Not only does veganism cause weight loss, but it also increases your energy levels and makes you feel amazing.
Are Vegan Recipes Good For Fitness?
Many people consider vegan diets to be good for fitness – however, the specific vegan diet chosen will determine whether or not you can follow it while training. Some vegan diets may not contain enough protein for your muscles to grow and recover, but other vegan diets are designed specifically for athletes. The best way to know what you can eat is by looking at the recipes themselves because according to the Vegan Fit Guide, you can get vegan recipes that contain the right amount of protein and other nutrients, depending on your goals. There is an assortment of healthy vegan recipes that can help you get in shape, without sacrificing too much on taste or time. Veganism is one of the healthiest ways of living that is currently known to humans. Below are healthy recipes for an amazing summer body.
Vegan Recipes
Vegan recipes are healthy food for a healthy summer. A lot of people want to eat healthier in the summer. The sun is out and that means you can be outside more often doing things like hiking, biking, or running. Now there's no need to feel left out while your friends are going bonkers over fresh salads and fruit smoothies – here are some recipes for vegan eats that are so delicious, you won't feel like you're missing out.
Black-Eyed Pea Salad
The base of the recipe is black-eyed peas which are high in fiber and protein. They're mixed with sweet corn niblets for a touch of sweetness, baby arugula for an earthy flavor, and crisp cucumbers for crunchy satisfaction. The dressing is the perfect touch to this refreshing salad – it's sweet but with a sharp bite thanks to lemon juice, balsamic vinegar, salt, pepper, agave nectar, and mustard. You can enjoy this salad as a light lunch or snack and feel good knowing that it's healthy and vegan.
Gazpacho
If you've never had gazpacho before, it's time to give this vegan recipe a try. This traditional Spanish soup is served cold so all the ingredients are very fresh – ripe tomatoes, cucumbers, onions, garlic, celery, and peppers. Add in some balsamic vinegar for a little extra tanginess and you have yourself a bowl full of deliciousness. Gazpacho is great as an appetizer or a meal on its own.
Raw Vegan Nachos
It takes a little preparation to make these nachos, but it's so worth it. You need to dehydrate the chips for an hour before you eat them and then they're bursting with deliciousness – made from corn, fresh tomatoes, peppers, onion, and garlic. The only other ingredients needed are raw cashews, chili powder, cumin, chili flakes, salt, and pepper.
Fruit Salad
This is a classic recipe that never goes out of style. It's the perfect end to any meal because it's cool and sweet. The secret to this vegan recipe is making sure you pick fruits at their absolute freshest – nothing beats a ripe banana, pineapple, papaya, and mango that's been chopped into chunks and sprinkled with lime juice.
Avocado Toast
For people who aren't quite ready to give up their bagels and toast, this vegan recipe might be the perfect fix. The base is a slice of whole wheat bread that has been slathered in mashed avocado and topped with a thin layer of mashed black-eyed peas. It's very simple but savory and satisfying.
Banana Chocolate Chip Cookies
These cookies are so delicious you won't believe they're vegan. They're soft and moist – probably much healthier than your standard chocolate chip cookie recipe since they contain whole wheat flour, vegetable oil, bananas, vanilla extract, and vegan chocolate chips. You'll never miss the dairy or eggs if you bake up a batch of these.
Cinnamon Apple Crisp
This is another great summer recipe because it's filling but still light enough to not weigh you down during your next outdoor adventure. The apples are mixed with maple syrup, cinnamon, and vanilla extract for a deliciously sweet flavor. The crispy oat crumbles on top also help make this recipe feel like an indulgence. You can sprinkle some nutmeg on top for an extra hit of flavor.
Healthy vegan recipes for an amazing summer body are the best way to go when it's really hot outside. The key is to avoid any items that contain animal products like milk, eggs, and meats. Instead use fresh fruits, vegetables, legumes, grains in your cooking. Some simple healthy vegan recipes for a summer body include a fresh salad with plenty of veggies and some sort of fruit. This can be as varied as strawberries, blueberries, blackberries, or raspberries. Add in some sliced almonds and you've got yourself an amazing dish! Alternatively, if you're looking to cut down on sodium, you could always substitute the fruit for canned, canned fruit in water or 100% juice.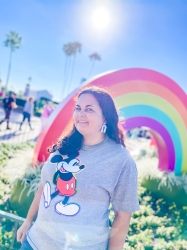 Latest posts by Krystal | Sunny Sweet Days
(see all)