Cocktails and Conversation at Outback Steakhouse
This shop has been compensated by Collective Bias, Inc. and its advertiser. All opinions are mine alone. #CollectiveBias

This has been one of the most exciting and exhausting weekends I've had in quite some time. I spent much of last week working on projects, launching a new product (No, for real! I have a new blogging class!), and gearing up for a blog conference a few hours away. Needless to say that I was ready for some serious cocktails and conversation when I arrived home! Instead of a typical Sunday Funday outside on our deck, we opted to just relax and recharge at Outback Steakhouse in Cape Coral, Florida. Their happy hour pricing drew me in, and I was kind of the in the mood for a savory meal.

Did I mention it basically rained all weekend? I drove up and down the interstate in pretty scary conditions, and I was oh so grateful to the passenger for this trip. My local Outback Steakhouse is on a busy intersection in my city, but it is easily accessible. I also prefer this location since there are a few tables where you can eat outside (or wait for a table with a glass of wine!). I wanted to spill everything I learned to my husband who works in media, and I know he would interested in some of the ideas and technology tips I picked up at Florida Blog Con. One of the sessions I went to was about creating content on the go, and since my husband is a journalist, I knew he would totally be into these new apps and tools to use.

Who needs food when there are this many choices? I used to pride myself in being a happy hour connoisseur, but I've grown fond of my favorites. There are some places that offer great service with a wide selection, and I like to stick with what works. Even if happy hour pricing wasn't an option, I would still pick my local Outback for the overall ambiance and cocktail choices.
Since my husband and I work weird hours and juggle a toddler around town, it's nice to have these little moments together to just sit and chat. We are often so busy running from one place to another that it's hard to even know what our schedules are like. And, both of our schedules change so frequently! One minute he has the day off, the next he is on assignment. So, I like to take Sunday evenings to plan for the week. With a topic as boring as "who is taking our child to school," a tasty cocktail and appetizers are in order!

We usually bypass the host or hostess in favor of the open seating at the bar. They have booths for two, four, and tons of bar stools. The main reason we like to sit in the bar? We get to watch the game, check out what's on draft up close and personal, and I feel like it's okay to be a little noisy. I'm not going to lie, I'm not exactly a quiet restaurant guest.

My husband and I are all about trying new cocktails and craft beers, so Outback's menu doesn't disappoint. I was drawn to their sangria (and contemplated getting a pitcher), and their fresh fruit flavors seem perfect for a Sunday Funday. Both their strawberry peach and blackberry sangrias are really good, but we wanted to try drinks we hadn't ordered before.
We usually talk about what we are in the mood to drink, and we order different things so we can sample a few. He is into rum, I'm more of a wine or frozen cocktail kind of girl. It works out.

This rum punch surely didn't disappoint. It was a blend of Mount Gay® Rum, Malibu® Coconut Rum, fresh lime, mango & cranberry juice. This was obviously my husband's choice, but it was good. Topped with fresh fruit and served in a mason glass, it became a new favorite. I decided to try the Wallaby Darned, which was a mix of SVEDKA vodka, DeKuyper Peachtree Schnapps, peaches, and that Prosecco floater. Talk about fancy! I haven't had a cocktail as refreshing in quite some time, so this one was a special treat. My husband wasn't into it, but he like his drinks stout and not overly fruity.

With their tropical concoctions and spiked teas and lemonades, it was hard to just choose one. The Huckleberry Hooch Moonshine Cocktail sounds refreshing, and I've made a mental note to try that one next time. I did order a pineapple cocktail, and my husband took advantage of another rum punch with happy hour pricing. It was nice to sit and relax with one another and talk about how Outback Steakhouse has been a part of our lives for quite some time. You see, we actually went to Outback on one of first dates. It was so long ago that he didn't even remember, but it was in our old city. I remember we popped in at about 5 p.m. to avoid rush hour in town, and we had a few drinks at the bar. I'll never forget how simple that day was, but it created a lasting memory. I like to connect over cocktails, and even after all this time that hasn't changed.

#Truth. With their happy hour pricing some of the drinks we ordered were a great value.

As for the food menu, I would be lying if I said we figured it out in a hurry. There are so many choices that we took turns asking each other what the other wanted. Did we want steak? How about the unlimited shrimp option? Better yet, let's sample a few appetizers! Do you know what pairs well with rum? Well, everything.
I was drawn to the short rib steakhouse nachos and the homemade BBQ chips. The nachos looked SO filling, and they were offered at happy hour pricing. One of my favorites, the bloomin' onion, was also on the bar menu in the form of bloom petals! Served with the signature dipping sauce, we just HAD to have one of these.

A sunny Sunday afternoon, good food, even better conversation, and a little relaxation. The perfect way to unwind after a long weekend and my favorite way to recharge before a busy week. Snacks, cocktails, and my favorite people. That's basically all I need to stay happy. So, here's to making time to spend with the people you care about most. Try a new drink, indulge in happy hour pricing, and don't forget about take out! Find your nearest Outback Steakhouse online.

The palm trees outside this location don't hurt either.
What's your favorite happy hour spot? Have you ever been to Outback Steakhouse? You might like to host your own happy hour at home too!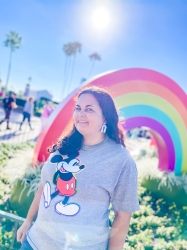 Latest posts by Krystal | Sunny Sweet Days
(see all)