Ultimate Halloween Party Checklist

When October arrives, I can't help but begin daydreaming of pumpkin patches, haunted houses, and spooky snacks. I  anticipate the cooler temperatures here in Florida, and I know it's the best time to throw an outdoor party. With Halloween coming up soon, I decided to throw a Halloween bash! This past Saturday the band that played our wedding was in town performing at a local venue, so I knew it would be perfect to have a "pre-party" at our home. I broke out the Halloween decor and stocked up on Halloween snacks. Keep reading for all the details, including a checklist to get you organized for Halloween! Let's throw a party!
FOOD + DRINKS
I like parties that start just after nap time (I do have a toddler after all!), so a heavy lunch menu isn't necessary. Instead, I opted for a few snacks and dips to appease our party guests.
Since I was serving dips, I picked two varieties of Wheat Thins I had never tried before. I instantly thought that the ranch would go well with a buffalo chicken dip, and I knew the lime Wheat Thins would have a zesty flavor that would pair well with salsa and a homemade fish dip.

To get the party started, I set out both flavors of Wheat Thins with salsa and buffalo chicken dip. I also used a Halloween platter to display favors and Oreos.

For an extra dip, I made my husband's favorite. He loves smoked fish dips, and he likes it even better when the dip is prepared at home using wild caught fish! This recipe is definitely a classic, and it pairs well with the crisp crunch of a Wheat Thin.

The fish dip was a crowd favorite, and it had a subtle spicy kick that was quite tasty. With a spicy appetizer, drinks were necessary. I dressed up the Dasani water bottles and orange Fanta with a few Halloween touches.

I used bright packing tape to decorate the water, and I added ice to a Halloween plastic tub. This became the "cooler," and I definitely recreating this idea for trick-or-treaters on Halloween night! How easy is this?

I then used a glass drink dispenser to pour in Fanta to enjoy. I decorated the container with yellow Danger tape.
Halloween themed striped straws, cups, and napkins completed the drink station.

I elevated the drink dispenser so guests could access the drinks easily. I recommend using crates (this one came from Walmart as well!) or sturdy stands.
Other items on the menu? 


Candied apples, cupcakes, and DIY push pops!

Black and orange frosting topped each cupcake, while spooky sprinkles covered these push pops!

To create your own, find plastic containers online or at a party store. Layer mini muffins or brownies with colorful frosting. Top with sprinkles and enjoy! For another idea, check out this delicious push pop recipe.
DECOR

I decorated each table with matching tablecloths and pumpkins. I don't like to carve pumpkins, so instead, we decorated them. We had a pirate pumpkin along with a few burlap pie pumpkins.

Use felt pieces and tape to give your pirate an eye patch and a hat. Add a googly eye, a dangly earring, and a silly mouth sticker to complete his look.

I found the burlap ribbon also at Walmart and used clear tape to adhere it to the pumpkin. An under five-minute craft? I'll take it!

I used these black chalkboard pails and stuck on clear Halloween stickers. I filled each one with straws, silverware, and other party essentials.

And, of course, the Oreos were piled high on a Halloween platter.
FAVORS

I try to create party favors for every shindig I throw, and edible favors are best! I made favor bags for very cheap this year using stickers and small treat bags that each cost under $1. Paired with Halloween Oreos, these favors were easy to assemble and share.
GAMES
Host your own Halloween Hunt! Download this free printable and let the little ones go on a hunt to complete these tasks. From finding monsters and zombies to listening to spooky music, this list has you covered!

And, you can cross off "take a Halloween photo" by setting up this fun photo booth!
PHOTO BOOTH
I love a good photo booth, but I don't have the necessary equipment to really make it work. I hope to own a backdrop stand ONE day, but I had been using shower curtains or large pieces of fabric. When I was shopping the seasonal section at Walmart, I thought about the plastic door decor signs. Couldn't I just attach those to my sliding glass doors?

Why, yes, yes I can. I grabbed two of them for under $2, and found some photo props to use. It was a fun addition to the party.
And, we had the most fun October has ever seen! Are you ready to host your own Halloween party? I'm sharing with you my list for what I needed to get started!

Download this Halloween Checklist and you will be on your way for an epic celebration!
What's your favorite detail? Are you throwing a Halloween party?
Halloween Dessert Recipes: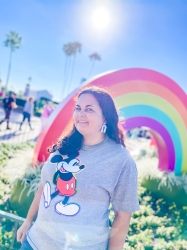 Latest posts by Krystal | Sunny Sweet Days
(see all)