Grapefruit Mint Infused Water Recipe
How much water are YOU drinking every day? And, how much of it comes from plastic water bottles? Everyone wants to drink more water and add this to their daily routine, but the BEST way to do this is with filtered fruit water. I'm here to inspire you to make healthier decisions for your family and to try new flavors that you may not have thought of!
The first step to drinking more water is to make a commitment to filtering your water. Not only will it taste better, but it is also better for the environment. I recently learned about Brita's Longlast filter which helps me replace the plastic in our house! A Brita Longlast filter can help replace up to 1,800 single-use bottles a year and reduced 99% of lead plus mercury, chlorine, benzene, and more. Water tastes better with Brita!
Brita Longlast Pitcher at Target
Brita filters out impurities and odors so that you can drink healthier, great tasting tap water with this BPA free plastic water pitcher. This Monterey Pitcher includes a Longlast Filter that works 3x longer so that you can enjoy fresh filtered water for up to six months between filter replacements.
Did you know that 2,000 plastic water bottles are used every second in America? There will be more plastic than fish in the ocean in 2050, and plastic water bottles take 450 years to decompose! Eek! Those numbers alone remind me that there is more that I can do each day to make a better life for my family.
It takes just one small step every day to make a difference. By simply ditching plastic water bottles, I can feel better about creating healthier habits each day. Now, I can have filtered water throughout my busy days. And, one way that I love to drink it, is with fruit!
Filtered fruit water, or infused water, is a delicious way to cool off on a hot day. One of my favorite combinations is cucumber and mint, but for spring and summer, I switch to a grapefruit and mint combo!
Want to try other filtered fruit water ideas? Consider these combinations:
Infused Water Recipes
Apple & Mint

Blueberry, Lemon & Mint

Cherries & Lime

Kiwi & Mint

Cucumber & Mint

Lemon & Mint

Lemon, Orange & Ginger

Orange, Pineapple & Grape

Strawberries & Lemon

Strawberry, Lime, Cucumber & Mint

Strawberry & Mint

Watermelon & Mint
Improve your hydration and ditch the plastic water bottles! This is something that you can do for a budget-friendly hydration option.
Infused Water Tips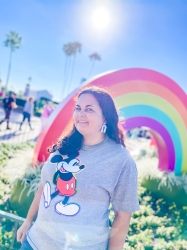 Latest posts by Krystal | Sunny Sweet Days
(see all)