We were up early for one of our excursions–a snorkeling shipwreck "adventure." Everyone that I have known who went to Grand Cayman hung out with some huge stringrays. We just couldn't do it. I am totally creeped out by that idea. We snorkeled right off the coast and it was so beautiful over the reef. There were only about 6 people on this excursion, it was nice and peaceful! We saw the shipwreck and heard stories about the Cali.
Snorkeling with the cruise ship in the distance

On the boat off the shore of Grand Cayman
We hit Hammerheads for lunch and a bucket of Cay Brew beer. Man, Grand Cayman is expensive. Just a little FYI. It's like America and given the chance to visit again I would probably pass. I had a mahi sandwich for a million dollars and then we hit Dunkin Donuts for a coffee and wireless internet break. Apparently everyone else had the same idea as the DD was poppin' with cruise staff and tourists logging on with their laptops, phones, etc.

Yum

Hammerheads

Heading back to the boat via tender
We boarded the boat and took a massive nap. We got up for more trivia, a pitcher of beer, tv trivia, and peeped into a Motown show.

Beer! We found a sports bar on board that had a Miller Lite pitcher special. Sold.
For dinner I had seafood pasta and I'm pretty sure it was awesome. I definitely passed out by 10 p.m. Again. Sigh.
And, if you're wondering how I remember all this stuff months later… I took detailed notes on my iPhone just for this reason! 😉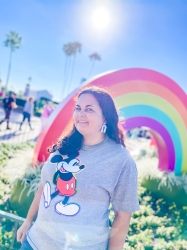 Latest posts by Krystal | Sunny Sweet Days
(see all)