How to Use Themes to Create Goals: Free Goals Printable
This shop has been compensated by Collective Bias, Inc. and its advertiser. All opinions are mine alone. #NatureMadeGutCheck #CollectiveBias
Raise your hand if you are still setting your goals for the new year! Yes, I definitely am!


The start of a new year is always hectic with resolutions and new routines, and I'm here for it. I want to get back on track and STAY THERE. It doesn't come easy, but there are a few strategies that I use to help find myself in the new year. New year, new me… right?

How to Set Goals Year Round

January isn't the only time of the year that you can set goals, but it certainly feels like a clean slate. My mind is spinning with all of the possibilities from meal planning, getting fit, organizing my home, and trying to create healthy routines with my family (I'm not sure where to begin). So, I'm going to create goal THEMES and start there. I will set ONE goal for each theme/area of my life to keep it simple. No stress here!
Goal Themes
Wellness. It's time to make my health a priority, and that includes each part of my body from my head to my toes! Something that many people forget about is keeping your gut in check. I recently discovered Nature Made® Digestive Probiotics + Energy‡† B12 Adult Gummies from Walmart and I've been using them for a few months now.
Since probiotics are "good" bacteria that naturally exist in cultured or fermented foods (like yogurt and certain cheeses), they offer benefits to your digestive system. Probiotics allow more of the "good" bacteria to be present in your gut and crowd out unwanted bacteria! This is why starting a supplement, especially a probiotic gummy supplement, is a great way to increase your intake of the "good" bacteria and help naturally support your digestive health.† My wellness goal is to make sure that I take my supplements daily according to the package instructions. I will track how I feel and what progress I have made.
Home. To create just one goal in this area is tough, but I want to make sure that every room in my home has been decluttered. I'll start with the kitchen, my office, closet, and then the living room. I want to make sure that these four core rooms in my home are decluttered, organized, and kept clean. This may mean getting rid of furniture that is hard to clean (hello, dust!) or ridding myself of plates and cups and using disposable plates until we can get a handle on our new routines. 

Work. My "work" consists of a day job and my blogging empire, am I right?! I want to continue my business, but get more organized. Can you tell that organization is a common theme here? I want to set official work hours and find the time to create more content that I love! I want every photograph that I share to be something that resonates with me and my audience. I want every blog post that I do to have the capacity to help someone in any way. That's why this post about setting themes for your yearly goals is important to me. I hope to inspire even just one person with a simple tool to get motivated.
Family. I almost hate that I listed family as my last theme for the year, but sometimes it just works out that way. I know that sometimes it seems like I am too busy to spend time with my family, but it isn't always true. We take random weekends to our favorite theme park and spend pizza and movie nights together. I know we can do more though. I'd love to see us plan our "first" real vacation somewhere that isn't down the street. I'd like to see us find our forever home (or at least make progress on finding it). 

Ready to set your own goals? I got you started with four-goal themes and a bonus category called personal. There are two blank boxes so you can customize to your needs. Don't forget to add in vitamins and supplements to your health category and look for Nature Made® to help you get everything that you need! 
You can find Nature Made® Digestive Probiotics + Energy‡† B12 Adult Gummies at Walmart!
Goal Setting Printables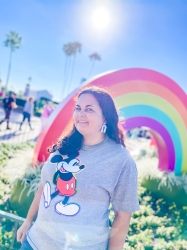 Latest posts by Krystal | Sunny Sweet Days
(see all)