Gift Your Game Lover the Top Nintendo Switch Games of 2020 With a Giftcard from The Game Marathon
The Nintendo Switch has only become more popular since it was released a few years ago. This is understandable since it lets you play video games on your big screen TV or when you are out and about. It is especially popular for gamers who take a long bus ride to work. Plus, it can be wallet-friendly if you buy the Nintendo Switch Lite, also known as the portable only version.
The other big thing that draws people to Nintendo Switch is the games. It had a great library to start with, but awesome new games keep coming out. The action-RPGs made for this device will be popular for many years. Plus, Nintendo games have created some great sequels. Not to mention, Mario is available. If you have a friend or family member who loves these games, getting them a gift card from The Game Marathon specifically for their favorites would be a real treat. Here are some of the top games which this site has gift cards for.
Animal Crossing: New Horizons
Animal Crossing has always been a popular life-simulator game. However, Animal Crossing: New Horizons has been a hot topic throughout 2020. It really took off during the lockdown since it helped players find a sense of community. This game offers a great way for people to unwind after a long day now that things started to open back up.
ARMS
This is a brand new fighting game. The unique combination of cartoons, science fiction, and boxing will keep any gamer occupied for hours. While its relations to sports might be questionable, players will get plenty of opportunities to release their pent up aggression. Plus, it is great for the ultra-competitive players.
Bayonetta 2
Bayonetta 2 is a fantastic game for this system. Years after it was released, it continued to be one of the most popular action games and was adapted to the Nintendo Switch. With tough challenges, your gamer friend is going to be thrilled with this game. The Game Marathon offers gift cards specifically for the Nintendo eShop, so your friend can log on and purchase this game themselves.
Bloodstained: Ritual of the Night
Some may think the idea of a demonic castle and sole savior seems cliche. However, if you know someone who loves Castlevania games, this is something they are probably dying to get their hands on. It draws on older Castlevania games to deliver a throwback experience with great graphics.
Cadence of Hyrule: Crypt of the NecroDancer
You may remember the surprise hit Crypt of the NecroDancer. Cadence of Hyrule: Crypt of the NecroDancer, is the Nintendo Switch version that rhythm game mechanics with the traditional Legend of Zelda gameplay. This combination will leave gamers with a surprisingly satisfying and enjoyable gaming experience.
Mario Kart 8 Deluxe
Mario Kart 8 had some pretty great graphics. However, instead of making a new game for the Switch, Nintendo revamped Mario Kart 8 for the new system. During the process, they also threw in some other stuff that is not available on the original Mario Kart 8. This new game is now portable and has so many additions that it is a must-own. If your gamer friend is a diehard Mario fan, they will love it when you get them a gift card specifically for this game from The Game Marathon.
Rocket League
If your gamer friend is into soccer with a twist, this would be a great game for them. Basically, it is a soccer game that uses remote-controlled cars instead of players. This game will leave your friend defying physics and marveling at the jaw-dropping graphics. Getting your friend a gift card from The Game Marathon for the Nintendo eShop will allow them to purchase Rocket League themselves.
Streets of Rage 4
For those who have anger management issues, this is the perfect game. This game offers a throwback to the 1990s with a beat up the goons gameplay and modern graphics. Fortunately, they have updated the gameplay a little and added some cool new features from the traditional Streets of Rage. If you know someone who could benefit from this game, a Nintendo eShop gift card from The Game Marathon could be what they need.
Tokyo Mirage Sessions #FE Encore
This game offers a pretty unique experience. It connects players with the world of Japanese anime. Not to mention, there are some pretty great pop songs on the gameplay. Plus, giving this game to your friend allows them to fight demons. If this sounds like something your favorite gamer would love, getting them an Amazon gift card from The Game Marathon will allow them to get this game themselves.
The Nintendo Switch is a great console that comes with plenty of hot games. The same goes for the Nintendo Switch Lite. Any avid gamers you know will be happy to have access to new games for their Switch. If you really want to make a gamer's day, getting them a gift card from The Game Marathon for one of these games will do the trick.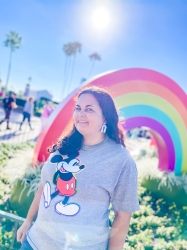 Latest posts by Krystal | Sunny Sweet Days
(see all)