Gift Ideas For Those With A Love Of Motorsports
Motorsports are one of the most popular types of sport found in the modern world. Millions of people tune in to watch races on television each year, creating a huge market for those who want to race around the track. When your partner or someone you care about has a passion for this type of sport, finding the right gifts for them can actually be incredibly easy. There are loads of options available, and this article will be exploring some of them to give you an idea of what you can give the motorsports lover in your life.
Books & Other Resources
While it may seem a little detached from the sport itself, many racing drivers produce books throughout their careers. These can come in the form of biographies, though they can also be non-fiction resources. Getting something like this for a motorsports fan can be a great gift, especially if you are able to get the book signed by someone involved in the sport. Of course, you have to make sure that the book you choose relates to the specific sport your loved one cares about.
Tickets For Races
Races are one of the key elements of motorsports, with the best drivers getting the chance to go head to head around the tracks of the world. Many of these races are public, giving people the ability to buy tickets so that they can watch the action as it unfolds. Finding options like US Grand Prix Tickets On Sale can give you access to a surprisingly affordable option when you're looking for great gifts. You should try and make sure that you can attend the race you choose with them, making it possible to share the experience.
Experience Days
Races and books can be nice gifts, but few things will compare to giving a motorsports fan the chance to drive for themselves. Over the last couple of decades, experience days have been surging in popularity. One of the most common types of experience day involves having the chance to drive a race car around a track. This can be quite costly, but the expense will be worth it to make sure that the person you care about is able to enjoy themselves.
Memorabilia
Finally, as the last area to consider, it's time to think about memorabilia. There are a lot of options like this available for those who like motorsports, from t-shirts to actual car parts. Websites like eBay can be ideal when you're hunting for gifts like this, giving you the chance to find authentic pieces that will put a smile on the face of the recipient. It can be easy to find yourself spending a fortune on items like this, so it will probably be worth setting a budget before you start.
With all of this in mind, you should be feeling ready to take on the challenge of finding gift ideas for those with a love of motorsports. This can be a great way to make your loved ones happy, all while giving you an easy gift option.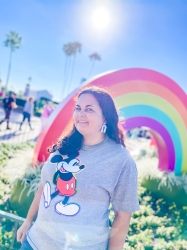 Latest posts by Krystal | Sunny Sweet Days
(see all)