30+ Gift Ideas for Relatives That Are Sure to Impress
Gift-giving is an interesting concept that has existed for centuries. The exchange of gifts, which is often seen as a form of unconditional love, dates back to the first century. One emperor gave the first recorded gift to another. Everyone enjoys receiving unexpected gifts, whether we give them during the holiday season, on a birthday, or simply as a pleasant surprise. Buying gifts for a family can be difficult. Everyone's tastes differ, and what seems to be a decent gift to one person may look outrageous and unsuitable to another. When in doubt, try one of the tried-and-true suggestions listed below.
Elegant Flower Bouquets
There is never a bad time to give a bouquet to a parent, sister, aunt, or another female relative. A Rose arrangement will impress any woman on, particularly memorable occasions.
Distinctive Coffee Table Books
Buying books is hard because most people do not know what their relatives have already read or what they might like to read. Coffee table books are the ideal option. They're attractive, inexpensive, and very noticeable, so it's easy to determine whether someone has a duplicate. To make a real statement, consider buying your loved one the best fantasy books for enjoyment and a stand-out feature for their coffee table.
Scrumptious Chocolate
Who doesn't enjoy unwrapping and devouring a box of fine chocolates? Chocolate is always a safe bet unless the relative has food allergies or follows an especially stringent diet.
Games for Families
Family game nights are one of the best parts of the year. Those who are close enough to their family to know what games they already have can enable them to grow their game collection by providing interesting new games to liven up get-togethers.
Wall Art
Art collectors would greatly appreciate original paintings and drawings. A well-chosen print will also make a considerate gift for people on a tight budget.
Magazine Subscriptions
A subscription to a magazine is a gift that keeps on giving for up to a year. There are so many possibilities available that it's simple to choose one that matches the recipient's interests or preferences.
Cell Phone Covers
Nowadays, almost everyone owns a smartphone. A smartphone case that matches the personality of the gift receiver might be an outstanding personalized gift.
Cosy Blankets
Do you have a female relative who takes delight in maintaining a beautiful, comfortable home? A throw blanket that fits the decor will show that the gift donor took the time to enjoy it.
Shirts with Button-Down Fronts
An artistically patterned button-down shirt can be an excellent gift for guys and tomboys. Just keep in mind that the pattern should go with his (or her) overall attire.
Customized Pictures
Not everyone appreciates fine art, but who wouldn't appreciate receiving a framed print of one of his or her favorite Instagram photos? While Instagram is relatively new, recognizing relatives' artistic abilities is a time-honored practice.
Knitted Sweaters
Receiving knitted sweaters as a child and hiding them in the bottom of a drawer is a sort of coming-of-age ritual. The good news is that they're back in style, so it's a practice that adult relatives should revisit.
Patterned Socks
Socks, like knitted sweaters, are one of the most dreaded gifts given to children. Creative people enjoy displaying their personalities with colorful socks, and they are ideal gifts.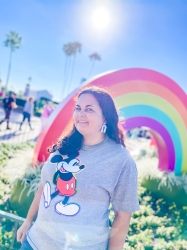 Latest posts by Krystal | Sunny Sweet Days
(see all)