Getting Healthy? Add These Snacks to Your Munch List.
Munching on your favorite snack throughout the day tends to take a toll on your body over time, especially if said snack is a tasty bag of potato chips. There are endless lists to guide us to make better food decisions. But one thing that's almost always missing is the flavor. There isn't much of a focus on tasty yet healthy snacks. What would those include? Granola, preserves, and fruit? Well, we've found a few healthy yet tasty snacks that are going to keep you munching for some time to come.  
Chickpeas
Used as the main ingredient in the already iconic snack, hummus, chickpeas are as versatile as it comes and have many nutritional and health benefits. Roasting chickpeas is a snack you can make that is quite simple yet still healthy. Packed with protein, fiber, and healthy carbs, roasted chickpeas are an on-the-go alternative to potato chips. You can simply roast them on a roasting tray for about 45 minutes at 350℉, or until crispy. Once done, allow to cool slightly before adding your preferred spice. You can omit the spice if you like and opt for keeping it plain too. Either way is delicious.
Avocado fries
This one is for the air fryer! Avocado is a fabulous addition to many dishes, whether nacho chips or burritos. Avos are also quite healthy and come packed with monounsaturated fat and vitamin E. You can enjoy an avo or two with simple salt and pepper since this is already a perfect snack on its own. However, avocado fries are a thing; it's healthy and super delicious too. To keep it healthy, you can follow this recipe. Cut into pieces, then season with kosher salt, pepper, and chili spice. Dip pieces into almond meal and then egg and cook in the air fryer until golden.
Popcorn
A classic that we usually enjoy with loads of butter and powdered sugar. A household staple and easy to make. In the mood for some quick snacking? Pop some kernels into your popcorn maker, and voila. A healthy snack in a few minutes. The great thing about popcorn is that if you don't add butter, spice, or sugar, it's super healthy. Add kosher salt to give yourself at least some flavor.
Veggie chips
Potato chips are the ultimate snack. The variety is endless, and so are the brands. There are healthier alternatives that are equally as good. You get sweet potato chips, beet chips, and even butternut squash chips.  
Buffalo Brussel sprouts
Brussel sprouts are an excellent addition to a healthy meal. But as a snack, it can stand on its own as a formidable nibble in between meals. Toss your Brussel sprouts with kosher salt, pepper, and hot sauce. Once evenly coated, roast in the oven at 400℉ for 20 minutes. Make a dipping sauce using hot sauce and some butter. Real butter is much better than margarine, so this still keeps it healthy. Once cooked and golden brown, remove the sprouts from the oven and enjoy with your dipping sauce.
Caprese eggs
No one looks at boiled eggs like it's a tasty go-to snack, but they can be. Boil a few eggs and allow to cool once ready. Have a few slices of tomato, mozzarella, and some basil leaves prepared. Assemble ingredients by first cutting your boiled egg in half. Then place tomato, mozzarella, and basil leaf down on top of one half of the boiled egg. Then add the other half, and voila, Caprese eggs. Drizzle with balsamic vinegar, olive oil, and kosher salt.
Roasted cauliflower and broccoli
We are used to having our broccoli and cauliflower drenched in cheese sauce for those hearty Sunday lunches. To make this a tasty snack, roast both veggies in the oven for 15 to 20 minutes. Once done, toss with kosher salt, olive oil, and chili flakes, and you have an instant delicious treat.
Spicy nuts
Nuts are notoriously good for you but sometimes need some spice to give them a bit of flavor. Get some cashews or almonds and toss on your favorite spice. Preferably something with chili in it. Try to stay away from salt-based spices unless it's kosher salt.  
Chocolate fruit
Chocolate fruit does not exactly scream health, but it can be good for you; here's how. Buy some of your favorite fruits and dark chocolate. Make sure your dark chocolate is 90% cocoa based or more. Melt your chocolate and dip one-half of the fruit in it. Then sprinkle some coarse salt on the dipped section. Delicious yet healthy. Remember that dark chocolate is the healthier alternative to milk chocolate.
Tuna bites
Tuna is often used in dishes where the aim is to stay healthy, and this snack is no different. Chop a cucumber, keeping the circular shape. Grab some tuna in brine or saltwater and mix it with kosher salt, pepper, lite mayo (just a dollop), lemon juice, and chili flakes. Dish spoonfuls of the tuna mixture onto the cucumber circles. PS. add this to the table at your next get-together, you will thank us later!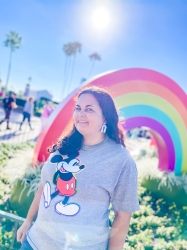 Latest posts by Krystal | Sunny Sweet Days
(see all)