Valentine's Day Bucket List: Galentine's Day Ideas
This post is sponsored by BabbleBoxx.com. 
Want to celebrate your best gals for Valentine's Day?
Valentine's Day isn't just for couples. You can use this time to celebrate your best buds too! I like to carve out time to hang with my girlfriends, and the month of love is a good time to reinforce your relationships with your best gals. Ever heard of Galentine's Day? It's the sweetest way to show your love with your friends. Use this printable Galentine's Day idea checklist to inspire you to gift your best girlfriends a few sweet treats. With a little help from Cross, Zenni Optical, and Casio, your girlfriends will be stoked that they are a part of your inner circle this year.
Valentine's Day Bucket List
Write a love letter. In case you didn't know, I'm a bit of an office supply junkie. I have a thing for bright white paper planners and smooth writing pens. This is my first time using a Cross Century II Pearlescent White Lacquer Rollerball Pen, and I'm obsessed. I go through pens like crazy, and I can tell you without hesitation my favorite type of ink (gel) and my favorite pen tip. This rollerball pen is quick drying and has an elegant look with timeless and polished rose-gold accents. It is definitely on my list of best pens for writing.
It is JUST the right weight and this pen has been upgraded to my everyday planning pen. Your gal pals will love the sophistication of this iconic rollerball pen with its fancy style.
Gift Idea: Pair this Cross Century II Pearlescent White Lacquer Rollerball Pen with a personalized planner or a notecard set. Send your favorites a love letter and surprise them!
Cross Coupon Code
Save 10% off your purchase with code Babble10. Coupon expires 2/28/19 at 11:59 PM Eastern.
Give someone heart eyes. Bring your favorite emoji to life with Zenni Optical!
These translucent heart-shaped eyeglasses add just the right amount of fun to your everyday life. At just $19.95, you can gift these to everyone at your next girls' get-together.
If your friends are anything like me, we spend a LOT of time scrolling our cell phones or using our computers. Show your girls that your eyes can be protected with Blokz™ blue blocker lenses. These glasses are designed to protect your eyes from harmful blue light emitted from any digital device! Skip the irritated, and blurry vision and get more work done without the tired eyes.
These Zenni eyeglasses are the pink sparkle cat-eye glasses with Blokz™ blue blocker lenses. 
Do yoga or go for a walk with your girlfriends. Something unexpected that can help put you in a good mood for Valentine's Day is a little exercise. Get your girls together for a morning sweat sesh. Consider sunrise yoga or a walk at sunset at your favorite park.
When you work out as a group, it can boost your mood and create long-lasting bonds with your buds. Before you hit the yoga mat or the gym, don't forget Casio's G-SHOCK S Series timepiece. The iconic case shape offers a rose gold metallic mirrored face with a matte band. Plus, it is water resistant up to 200 meters with a flash alert and a countdown timer.  The S Series GMDS6900MC is part of the "Military Chic" collection and it is durable for your next adventure! Your girls will love this sports watch. 
More Galentine's Day Ideas
Have a rom-com movie marathon. The cheesier, the better! The 90s is a treasure trove of romantic comedies, and this would be a fun idea for a girls night in this February.
Enjoy a sweet treat. Consider baking cupcakes or brownies together! Some of my popular recipe ideas include an ice cream sundae that is spiked with a chocolate liqueur. It's a decadent way to spend the day!
Paint your nails the perfect shade of pink. Get your besties together for a manicure day. Go glam with pink, red, or a combination of the two.
As you get ready for a happy hearts day, don't forget your girls. A beautiful luxury pen, sunglasses or glasses with blue blocker lenses, and a Casio G-SHOCK watch can make the perfect complement to a Valentine's Day gift. Celebrate Galentine's Day with these sweet ideas and show your girls love. 
How do you celebrate your best girlfriends? Do you host a Galentine's Day get-together? Try one of these 50 Valentine's Day Desserts and Drinks: Sweet Treats to Share for your girls day!
Download this Galentine's Day Bucket List for inspiration to celebrate!
Pin it: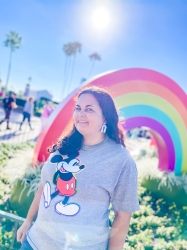 Latest posts by Krystal | Sunny Sweet Days
(see all)