8 Insanely Frugal Halloween Decorations
Heading into the fun holiday season Halloween is just around the corner and these eight insanely frugal Halloween decorations are just what you need to stay in budget. From decorating for a house party with friends and family, to making your front yard look spooky and fun for the creepy holiday these are favorite ways to make decorations inexpensively. You can find most of these items at your local dollar store or around your home.

Black Trash Bag Spiders: Large black trash bags can be filled with leaves that have fallen to create a spider body. Using smaller black bags you can twist and stuff with newspaper to make legs. Attach the legs to the body using some duct tape and put in random places in your front yard to look like large black spiders. You can paint or embellish with markers if you want to add a face to the spider.
Jack-O-Lanterns: Pumpkins are the star of the show from September through November, and their inexpensive cost makes them perfect for displaying on your porch, as a centerpiece on a table or as a Jack-O-Lantern with a candle inside to be spooky during the Halloween festivities. I use burlap ribbon to decorate them too!

Cobwebs: A great easy way to add cobwebs to things like bushes or shrubs, trees or even picture frames in your home is to grab fishing line and weave patterns together by hand. For $1 out of pocket you can make dozens of fun and easy cobwebs to hang all over your home. Grab a bag of plastic fake spiders from your local Dollar Tree and you have a perfect spooky Halloween.
Mummies: A little gauze or even toilet paper wrapped around rolled newspaper is a great way to create a fake mummy that everyone will love. Simply roll newspaper to create a body, arms and legs. Roll newspaper into a ball to create the head You can easily tape these parts together, then wrap in gauze or toilet paper to create a mummy to prop up as a scary decoration.
Hanging ghosts: A small white trash bag and some newspaper can create a fun and cheap ghost to hang from trees in your yard. Roll newspaper into a ball for the head, and place the trash bag over the head. Wrap fishing line around the base of the head to secure it, and then leave length to hang from the ceiling, porch railings or the trees in your yard.
Fake cemetery: Using paper bags, some spray paint and imagination you can easily create some simple hand made fake tombstones to then place in your garden or front yard to create a fake cemetery. Stuff paper bags with newspaper, spray paint gray and use black marker to add names and dates of death or R.I.P. to the bags to create a simple fake cemetery.

Glowing eye luminaries: Empty plastic milk cartons can easily be turned into fun glowing luminaries. Add a simple face to them and drop a glow stick inside then line your driveway with them. Collect the milk cartons for a few months after you finish milk (or orange juice) and save for Halloween. Use a permanent marker to create fun or scary faces on them, then pick up a package of glow sticks for $1 at your local Dollar Tree store.
Make your own wreath: You can also make your own wreath using supplies that you might already have or can find at an inexpensive cost. Last year I shared this creepy crawly wreath!

Use leftover Halloween supplies to embellish your wreath!
These frugal Halloween decorations are super easy for anyone to do. Some are free while others cost just a few dollars to create. They all fit well within any budget, and of course they are both fun and spooky enough to be the perfect addition to your Halloween decorations.
What are your favorite Halloween decorations?
Frugal Halloween Ideas
Halloween Decor Guide
Download Shabby Chic Halloween Decor for creative inspiration for your home this fall season. These creative ideas are simple and easy for your busy holiday plans.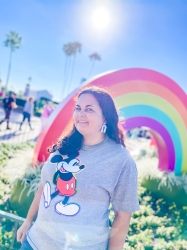 Latest posts by Krystal | Sunny Sweet Days
(see all)