Organize Your Calendar: Free Blog Planner
I wrote this post a LONG time ago, but the message is still the same. Feel free to hop on over and join my blogging community. I have a website called Bloggers Get Social and a community membership with free resources at Busy Blog Life.
Small businesses and bloggers often get bogged down with appointments and emails, but these organization tips for your calendar will help you to not get overwhelmed. Knowing how to organize your calendar to benefit your home business the best is important for ultimate self-employment success. Since we often try to ask on too much, these tips will help you to keep track of needs and stay organized with ease. I also have a free printable workbook that will give you the option to plan and reflect on the rest of the year to help you get focused!
10 Organization Tips For Your Calendar
Use an online calendar. While I am a paper planner junkie, having an online calendar system that can easily by synced on your phones, tablet, and the computer is great for recurring appointments.
Color code each family member or task. Whether you use an old fashioned paper calendar or you are using an online calendar, you can color code anything pertaining to a particular family member. When you assign everyone or each type of task its own color, it makes it easy to glance and know who has what happening on what days of each week. This works not only for your home and family but carries over into your business. You can easily color code your clients (or blog posts!) so you know what needs to be done for each client each day.

Make a list of must-do tasks for each day, week and month. Instead of just going day to day, take the time each month to put down onto your calendar the things you must do on a daily, weekly or monthly basis. This is one of our best organization tips because it helps you to never miss something. Things like daily email checks, even though small, should also go onto your calendar. Add in weekly things like invoice follow-ups, bank account balance and similar. Even though these may not be meetings or client projects, they still go on your calendar because they are a must for your business to run. It took me a long time to figure out that I really needed to schedule everything in order to do anything. It might not sound like a lot of fun, but at least I know my work is getting done in a timely manner.
Prioritize daily tasks. It's tough when everything seems important to complete, but you really must prioritize your calendar or you will forever be pushing things farther out on your list. Make sure the must-do items to run your business are first, and the most pressing deadlines are handled right away.
To help inspire busy bloggers to get moving this summer, I created this summer planning party workbook. It is fifteen pages of goal setting inspiration and charts to help you visualize exactly what you want to do for the rest of the year. Sometimes bloggers need accountability to reach their goals, and it can be very lonely blogging day in and day out. I try to use Bloggers Get Social as a way to inspire action and create relationships with other busy bloggers.
If you want to download this free blog workbook, head over to Bloggers Get Social. Add the freebie to your cart and get started! Stop by the Facebook group to share your goals and how you will use the workbook!
Don't put your personal business on business hours. It can be tough to keep business and personal things apart. However, for your own business productivity, this is one of the best organization tips I can give you. Schedule personal things during off hours and keep your activities during business hours all about business. Sure you can make a doctor appointment in the middle of a business day, but if you do it should be blocked off as time off, not penciled in around work.
Backup your calendar to the cloud. Even if you aren't using an online calendar app, one of the best organization tips for your work and business calendar is to make sure you have an extra copy of those must-do daily, weekly and monthly items. Allow more time than needed for small tasks. While your email list should only take half an hour, you often find yourself still working on something an hour later because of unexpected situations. When adding tasks to your calendar, give yourself a 15-minute buffer.

Separate your business and personal calendars. One of the best organization tips for your calendars is to actually keep your personal and business separate. This will help you to focus better on work during work hours. Some might think I'm crazy for having more than one planner, but it would be impossible for me to write down everything I need to do in one. I find that I function more efficiently when my blog, business, work, and home goals are separated. While I don't use each different planner every day, I make sure to check in with them often so my weekly goals are met.
Don't be afraid to use a timer to stay on track. Your calendar, no matter how neat and orderly, will do you no good if you don't actually do the work on it. A timer is a great way to remind yourself to stay on track and focused.
Give yourself free time. Even though your calendar has a spot for every hour of the day, you don't need to fill them! Make sure to know how to organize your tasks so that you have extra time in your week. This can relieve the burden and make it easier to take an afternoon off to watch a movie with the kids or a day off for a school field trip.
These organization tips for your calendar are going to work wonders on your home business productivity. When paired with a functional goal setting workbook, you can use these lazy summer days to accomplish your blogging and business goals!
Do you have any summer goals?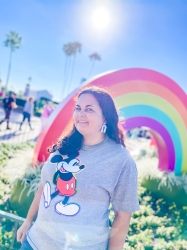 Latest posts by Krystal | Sunny Sweet Days
(see all)