7 Tips for Traveling Like a Foodie
When traveling, most people play it safe when it comes to the foods and cuisines they're willing to try. However, it's important to eat great when you're in a new place. The key to enjoying a trip overseas is to be adventurous in all things, including what you eat. Follow these seven tips for making the most out of your next culinary adventure.

1. Be flexible when it comes to 'accidental' meals. Sometimes, you'll be roaming ruins for an entire afternoon, when suddenly you realize you're starving. Use this opportunity to dine at whatever eatery is closest, whether it's a fancy restaurant or a food truck. Consider whatever's nearby to be a happy accident.
2. When you get stuck in the rain and have to duck into the nearest enclosure or you get lost in an unfamiliar city and can barely wait until lunchtime, check out the restaurant that's closest to you. Make it a point to eat there, even if you're not entirely familiar with the cuisine. This is one of the best ways to discover new foods and eateries.
3. Get advice from locals. Don't just ask the concierge at your hotel, though, who are probably used to suggesting the same few restaurants over and over. Hotels will probably send you to a place that most tourists like, which isn't what you're looking for. You shouldn't eat like a tourist if you want a true experience of an area's culinary culture. Ask friendly locals for their tips about where to eat your meals. Also, ask if they have suggestions for what to order at those places.
4. Do your research ahead of time. Find out if you know anybody in the area where you'll be traveling or connect with a friend of a friend. Ask them for their suggestions about where to eat and jot down notes regarding location and price point. You'll have several restaurants to choose from when you're wondering where to grab a morning coffee or book a dinner reservation.

5. Explore and be observant. Where do locals seem to be eating their meals? Where are they shopping for fresh food? What restaurants are they crowding around? Look for the indicators that a place is worth visiting. You'll also learn more about staying in Chicago, or wherever you're visiting, during the process.
6. Give unfamiliar food a shot. If you don't like it, nobody will ever force you to eat it again. How will you know whether or not you like something if you don't try it in the first place? There's no reason to fear unfamiliar food unless you have an allergy to it. Don't be afraid to ask what you're eating, either. Sometimes, simply knowing what something is will make you more comfortable.

7. Whether you're eating something you'd never heard of or you're simply trying a cuisine you're not familiar with, get out of your comfort zone while traveling.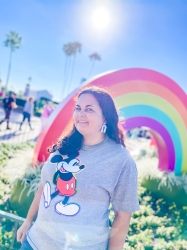 Latest posts by Krystal | Sunny Sweet Days
(see all)