Florida State Fair: Tips to Enjoy the Fun!
Get ready to enjoy the Florida State Fair. There is STILL time to have fun!
We recently visited the Florida State Fair, and I admit it has been about a decade since I attended. It was something we did growing up (and yes, we had a Children's Day at the Fair back then too!), and I always wanted to take my family there when I got older. I think my son had a blast! He is still talking about it today. If you're planning a day at the fair, here are my best tips.
Florida State Fair Tips
Arrive early. Stay late. It is best if you can make a full day out of it. There is simply so much to see and do that you can't do it all in one day. Plus, the fair at night is a sight to see! The lights of the ferris wheel and the view cannot be beat.
Bring cash. While there are plenty of ATMs on site, you might as well plan ahead and carry cash.
Wear comfortable sneakers. Some of the rides are best enjoyed with closed toed shoes…especially those wacky fun houses.
Get a schedule. You don't want to miss a thing, so grab a schedule so you can see what is going on.
Plan around your favorite shows. There are going to be a few shows that you'll want to see ranging from circus acts to concerts. Pick a day to spend at the fair so you can see the MOST for your money.
Wear sunglasses and sunscreen. Even though the fair is in February, it is still sunny and warm. Bring sunglasses and wear SPF!
Hand sanitizer is your friend. It truly is.
Ride wristbands are a better value. It's more fun to enjoy the midway attractions without restrictions. Grab a wristband so you can enjoy all of your favorite rides as many times as you'd like.
…and enjoy the view!
The Florida State Fair, which has been held in Tampa every year since 1904, returns to the Florida State Fairgrounds from Feb. 8 through the 19. If you are a thrill-seeking fan of midway rides, this is the perfect event for you. Covering fifteen acres, the Florida State Fair boasts the largest Midway in North America with 110 different rides.
Tickets can be purchased at the Fair Box Office between 9:00 a.m. and 5:00 p.m., Monday through Friday, at any participating Publix Supermarkets in the Tampa Bay area or online at www.floridastatefair.com. Advance admission tickets are $9 for adults and $5 for children ages 6 to 11. Unlimited ride bands start at $20 for weekdays and $30 for weekends. Keep reading to find out how you can win passes along with armbands to this year's event.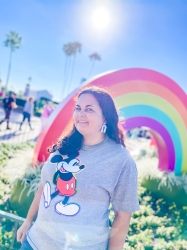 Latest posts by Krystal | Sunny Sweet Days
(see all)